| | |
| --- | --- |
| 1947-1948 Syracuse Orangemen | |
Coach: Lew Andreas
There were expectations that the Orangemen would have a solid season, coming off a 19-6 season. Syracuse was returning its top three scorers from the previous year, captain Billy Gabor who was already the university's all time leading scorer, and juniors Ed Stickel and Royce Newell. The experienced veterans such as Roy Peters, Andy Mogish and the Glacken brothers were gone, but several bench players returned along with a large group of talented sophomores.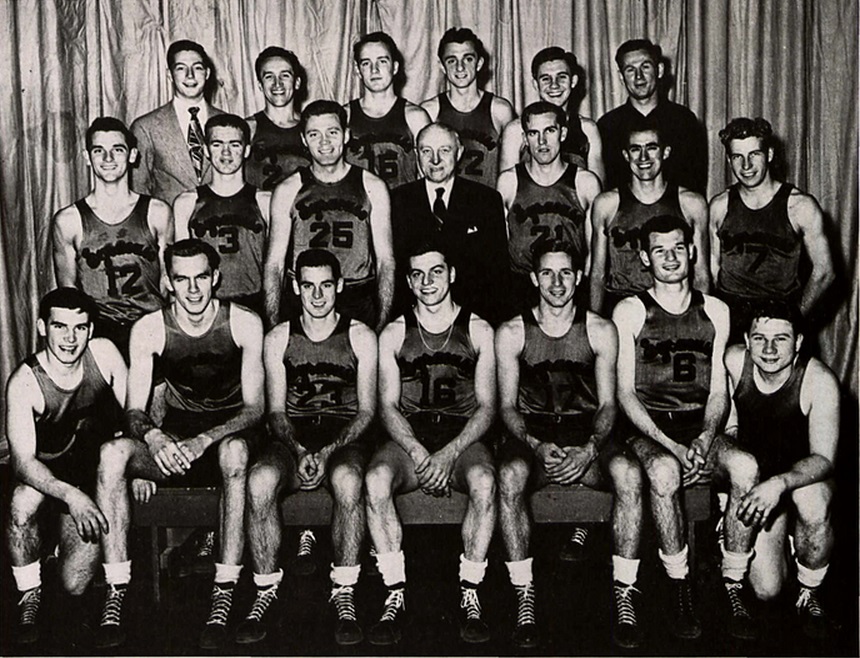 Coach Lew Andreas had compiled a team short of size, outside of Newell, but with a lot of speed and depth. The Orangemen would start the season strong winning four of their first five games. They would head out to California to participate in the Los Angeles Invitational Tournament. Bullet Bill Gabor was struggling as a result of a sprained toe, but Stickel was picking up the scoring slack. Syracuse would overwhelm Loyola and Brigham Young in the first two rounds of the tournament. Unfortunately, in the finals against Marshall, Gabor would sprain his ankle and miss most the game, while Stickel would have an off night. The Orangemen would lose a close game 46-44.
Injuries and foul trouble then started to unravel the season. Starting forward George Jarvis would injure his leg in a 46-43 loss to Cornell, and would miss the rest of the season. Newell and Gabor were often finding themselves saddled with four fouls limiting their playing time, or even getting disqualifications. Syracuse would have back to back heartbreaking losses in late January. They would lead Princeton 55-54 as time was expiring, when the Tigers' Lowry grabbed the inbounds pass, dribbled past mid court, and made a near half court shot to win the game 56-55. The next week they would lose to Seton Hall by the exact same score 56-55.
Stickel would injure his leg in win over Fordham, and would miss five games (and be ineffective in two more) as a result. After starting 6-1, the Orangemen would finish the season 5-12, and have a losing record 11-13.
There were a couple of bright spots down the stretch for Syracuse. Gabor became Syracuse's first 1000 point scorer, and tied the Syracuse single game scoring record (which he had set two years before) with a 36 point game against Temple. Gabor would have another big game with 30 points against Rochester.
© RLYoung 2005, 2006, 2008, 2017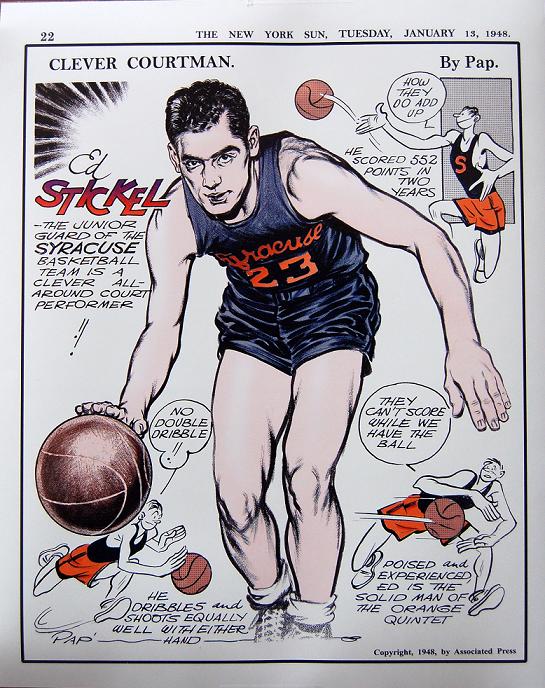 Poster drawn by Thomas 'Pap' Paprocki, January 13th, 1948 for the New York Sun, regarding the City College of New York game. Submitted by Rich Stickel