| | |
| --- | --- |
| HS: Sterling | Sterling, IL |
| | |
| --- | --- |
| Born: February 25, 1895 | Sterling, IL |
| | |
Lew Andreas was a highly successful coach, who led the Orangemen for 27 seasons, including their National Championship in 1926. He compiled a career record of 358 wins vs 134 losses. Andreas was responsible for taking Syracuse's athletic programs to national prominence,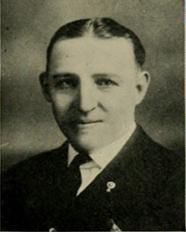 as he was the Director of Physical Education and Athletics from 1937 until 1964, a span of 28 years. During that time he saw the basketball program develop into a perennial NCAA power, the football program reach elite status with a national championship in 1959, and lacrosse program become one of the pre-eminent programs in America.
In 27 seasons as Syracuse head coach, he had 24 winning seasons, including 18 in a row, a National Championship, and two NIT bids. Andreas was known for his up tempo style of play, and letting the players make their own plays, as opposed to having set plays. Andreas had a gruff personality, seldom smiling, but always caring for the players. He played deep into his bench, often substituting whole lineups.
He was also the head coach of the football team from 1927-1929, going 15-10-3.
Andreas initially attended the University of Illinois where as a freshman he played in baseball, basketball and football. He would leave school after his freshman year to help in World War I. He would serve as an ambulance driver over in France. He later attended Syracuse University where he played in football and baseball (ironically, not in basketball). He was an end on the football team, and a catcher on the baseball team. Andreas would play one season of football with the Syracuse Pros of the APFA as a end (wide receiver), playing two games (the team only played three).
He would serve as the athletic director at Norwich High School for two seasons before returning to Syracuse to be the director of freshman athletics.
Andreas was president of the National Association of Basketball Coaches from 1954 to 1958.
Andreas was inducted into the Syracuse Hall of Fame in 1988. He passed away in 1983.
©RLYoung 2005, 2007, 2015