| | |
| --- | --- |
| HS: Binghamton Central | Binghamton, NY |
Season Stats

| Season | Cl | Pos | G | GS | FG | FGA | % | FT | FTA | % | Fls | DQ | Pts | PPG |
| --- | --- | --- | --- | --- | --- | --- | --- | --- | --- | --- | --- | --- | --- | --- |
| 1942-43 | So | F | +10 | +6 | - | - | | - | - | | - | - | 49 | ~4.7 |
| 1945-46 | Jr | F/C | 16 | 15 | - | - | | - | - | | - | - | 59 | 3.7 |
| 1946-47 | Sr | F | 25 | 25 | - | - | | - | - | | - | - | 123 | 4.9 |
| Career | | | +51 | +46 | 0 | 0 | 0.0 | 0 | 0 | 0.0 | 0 | 0 | 231 | 0.0 |
Andy Mogish was a star defensive player for Syracuse basketball, as well as a noted coach of multiple sports. Mogish was not a big scorer, but was a very aggressive player noted for his strong defense and rebounding abilities.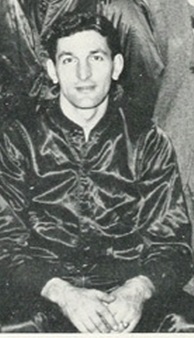 Mogish played high school basketball with Billy Gabor at Binghamton Central. Mogish was one of the top reserves on the basketball team his sophomore season. He was called into active duty in the military for World War II before the season ended.
Mogish would serve in the military for two years as a corporal in the US Army Air Corps, and then return to Syracuse midway through the 1945-1946 season. He and fellow war veteran Roy Peters would provide a spark for the Orangemen in the second half of the season, helping Syracuse earn its first post season appearance ever.
Mogish would return for his senior season, and was the lone senior on the squad, helping the Orangemen to a 19-6 record. Mogish would turn to coaching as a profession upon his graduation from Syracuse in 1947. He was a very successful coach of the men's freshman basketball team from 1947-1960, along with being an assistant coach on the men's varsity basketball team. In 1963 he would assume duties as the men's golf coach. He was the last Syracuse baseball coach, heading the team from 1967 until it was disbanded after 1972.
Mogish was named a Syracuse Letterwinner of Distinction in 1986. In 2001, his daughter Martha, a star basketball player at Syracuse, would earn the same award.
Mogish passed away in March 2015. [1]
©RLYoung 2011, 2018
[Participation missing from two games in 1942-43, indicated by the +]