| | | |
| --- | --- | --- |
| 6'2" | 180 lbs | Forward/Center |
Season Stats

| Season | Cl | Pos | G | GS | FG | FGA | % | FT | FTA | % | Fls | DQ | Pts | PPG |
| --- | --- | --- | --- | --- | --- | --- | --- | --- | --- | --- | --- | --- | --- | --- |
| 1945-46 | Fr | F | 27 | 12 | | | | | | | | | 123 | 4.6 |
| 1946-47 | So | G/C | 19 | 1 | | | | | | | | | 47 | 2.5 |
| 1947-48 | Jr | C | 13 | 1 | 5 | | | 3 | 5 | 60.0% | 20 | | 13 | |
| Career | | | 59 | 14 | +5 | 0 | 0.0 | +3 | +5 | 0.0 | +20 | 0 | 183 | 3.1 |
Larry Crandell played basketball for Syracuse for three seasons.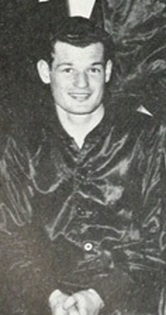 Crandell was an bombardier in the 15th Air Force in World War II, seeing action in Italy on 35 combat missions. He earned the Distinguished Flying Cross, Purple Heart, and Air Medal. He came to Syracuse as a 21 year old freshman in 1945, and would graduate in three years.
Crandell was a starting forward for the first half of his freshman season, until veteran Andy Mogish was ready to play. He would score a career high of 18 points against Rochester in a win his junior season. He was a solid shooter from the pivot position. He would be a solid reserve both his junior and senior campaigns.
Larry was known for his self-effacing sense of humor, and would become a successful community leader in Santa Barbara, CA. His son Steven Crandell wrote a book about Larry entitled 'Silver Tongue: Secrets of Mr. Santa Barbara'.
His name was sometimes spelled Larry Crandall in the media.
Larry's younger brother Marty Crandell was a three time boxing letterman at Syracuse, and would be the NCAA heavyweight champion. Marty was later recognized as a Syracuse Letterman of Distinction.
©RLYoung 2006, 2007, 2008, 2017, 2018