| | |
| --- | --- |
| HS: Madison | Rochester, NY |
Season Stats

| Season | Cl | Pos | G | GS | FG | FGA | % | FT | FTA | % | Fls | DQ | Pts | PPG |
| --- | --- | --- | --- | --- | --- | --- | --- | --- | --- | --- | --- | --- | --- | --- |
| 1944-45 | Fr | G/F | +17 | +14 | | | | | | | | | +104 | ~6.3 |
| 1945-46 | So | G | 25 | 5 | | | | | | | | | 88 | 2.2 |
| 1946-47 | Jr | G | 24 | 1 | | | | | | | | | 48 | 2.0 |
| 1947-48 | Sr | G | 7 | 2 | 7 | | | 1 | | | | | 15 | |
| Career | | | +73 | +22 | +7 | - | 0.0 | +1 | - | 0.0 | - | - | +255 | ~3.5 |
Ollie Renzi was a speedy guard for Syracuse basketball for four seasons. He was described as being 'fleet footed', and a very good rebounder. Renzi was valued as a versatile player, playing both at the perimeter and inside. He was also known for playing solid defense.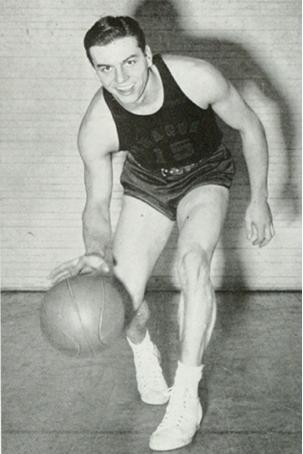 Renzi was a versatile player for coach Lew Andreas his freshman year, playing both guard and forward. It was the first season of basketball for Syracuse following World War II, and Andreas was putting together different starting lineups throughout the season.
Renzi's best year at Syracuse would be his sophomore year. He was the top reserve for most the season, occasionally starting when a regular was unable to do so. In the Temple game on January 19, 1951, Renzi would be required to go to the free throw line with Syracuse down by a point and 50 seconds remaining in the game. He would hit both free throws, giving the Orangemen the lead, one they would hold onto as they won 53-52. A few weeks later, Syracuse was playing rival Colgate in a close game. Colgate's star scorer Ernie Vandeweghe was causing a lot of problems for Syracuse's defense, and none of the assigned defenders could stop him. Andreas inserted Renzi, and he was able to shut out Vandeweghe for the rest of the game, as Syracuse won 70-60.
Renzi would be a valuable reserve his junior season, though his scoring and playing time would decrease. He would barely play his senior season.
Renzi passed away in 1993.
[Note: Missing scoring for 2 games in 1944-1945, indicated by the +]
©RLYoung 2009, 2014, 2015, 2016, 2018