| | | |
| --- | --- | --- |
| 6'2" | 165 lbs | Guard/Forward |
| | |
| --- | --- |
| HS: Ridgefield Park | Ridgefield Park, NJ |
Season Stats

| Season | Cl | Pos | G | GS | FG | FGA | % | FT | FTA | % | Fls | DQ | Pts | PPG |
| --- | --- | --- | --- | --- | --- | --- | --- | --- | --- | --- | --- | --- | --- | --- |
| 1947-48 | So | F | 23 | 13 | 44 | - | --- | 28 | 41 | 68.3% | 47 | - | 116 | 5.0 |
| 1948-49 | Jr | G/F | 18 | 0 | 6 | 27 | 22.2% | 7 | 15 | 46.7% | 22 | - | 19 | 1.0 |
| 1949-50 | Sr | G | 10 | 3 | 14 | 42 | 33.3% | 7 | 10 | 70.0% | 18 | - | 35 | 3.5 |
| Career | | | 51 | 16 | 66 | +69 | 0.0 | 42 | 66 | 63.6% | 87 | 0 | 170 | 3.3 |
Bill Fash was a guard and forward for Syracuse basketball for three seasons. Fash was considered to have a good pivot shot and was a decent rebounder.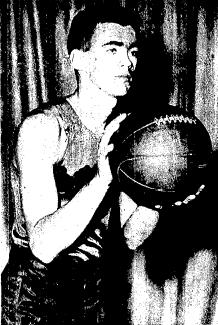 Fash would earn a berth as a starting forward halfway through his sophomore season, finishing the season strong with personal season highs of 14 points against Cornell and Niagara down the stretch. Syracuse would have a very deep squad his junior year, and Fash would spend time on the varsity and junior varsity squad. He would play in eighteen of the varsity's twenty five games.
Fash would start his senior season as one of the starting guards. However, classmate Mike Stark would take that position from him after the third game.
Fash would graduate from Syracuse in 1951. He would be a basketball coach at Lynn University, and become a prominent figure in their athletic programs, earning a Lynn University Distinguished Service Award in 2005.
©RLYoung 2007, 2008, 2009, 2015, 2017