| | |
| --- | --- |
| HS: Johnson City | Johnson City, NY |
| | |
| --- | --- |
| Born: 1/30/1924 | Johnson City, NY |
Season Stats

| Season | Cl | Pos | G | GS | FG | FGA | % | FT | FTA | % | Fls | DQ | Pts | PPG |
| --- | --- | --- | --- | --- | --- | --- | --- | --- | --- | --- | --- | --- | --- | --- |
| 1945-46 | Fr | F | 1 | 0 | 0 | - | | 0 | - | | - | - | 0 | 0.0 |
| 1946-47 | So | F/C | 6 | 0 | - | - | | - | - | | - | - | 6 | 1.0 |
| 1947-48 | Jr | G | 10 | 5 | 14 | - | | 13 | 25 | 52.0% | 26 | - | 41 | 4.1 |
| 1948-49 | Sr | F/G | 21 | 0 | 10 | 30 | 33.3% | 3 | 5 | 60.0% | 11 | - | 23 | 1.1 |
| Career | | | 38 | 5 | +24 | +30 | 0.0 | +16 | +30 | 0.0 | +37 | - | 70 | 1.8 |
Earl Ackley was a reserve on the Syracuse basketball team for four seasons. Ackley was a three sport star in high school. He would serve as a medic in the 44th Infantry Division of the US Army during World War II, and would earn a purple heart while assisting injured soldiers at the Battle of the Bulge.[1]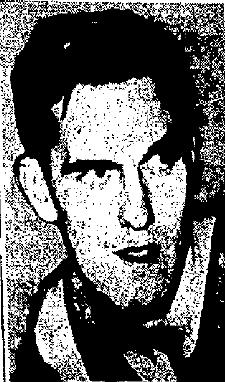 Ackley would be a 21 year old freshman when he started at Syracuse. He would barely play on the varsity his freshman and sophomore seasons, totaling seven games in the two years combined. He would step in to replace Bobby Wallach in the Syracuse starting lineup for five games his junior season, and would average 4.1 points per game, though he managed to appear in only 10 games.
Ackley would play in most the games his senior season as a valuable reserve.
Following graduation, Ackley would tour with the 'House of David' touring basketball team for the 1948-1949 season. He would then gain employment for General Electric where he would work for 30 years in Syracuse and in Lynchburg, Virginia.[1] He played basketball in the Syracuse Industrial League in the early 1950s for General Electric, and was a star player in that league.
He was a longtime high school and college basketball referee in Virginia.
Ackley passed away in July of 2011. [1]
©RLYoung 2013, 2015, 2017
[1] Lynchburg News & Advance, Obituary July 31, 2011