| | |
| --- | --- |
| HS: Vocational | Syracuse, NY |
Season Stats

| Season | Cl | Pos | G | GS | FG | FGA | % | FT | FTA | % | Fls | DQ | Pts | PPG |
| --- | --- | --- | --- | --- | --- | --- | --- | --- | --- | --- | --- | --- | --- | --- |
| 1945-46 | Fr | G | 23 | 2 | - | - | --- | - | - | --- | - | - | 100 | 4.3 |
| 1947-48 | So | G | 21 | 11 | 36 | - | --- | 4 | 14 | 28.6% | 20 | - | 76 | 3.6 |
| 1948-49 | Jr | G | 12 | 0 | 6 | 26 | 23.1% | 2 | 6 | 33.3% | 6 | 0 | 14 | 1.2 |
| 1949-50 | Sr | G | 24 | 12 | 24 | 83 | 28.9% | 17 | 23 | 73.9% | 38 | - | 67 | 2.8 |
| Career | | | 80 | 25 | +66 | +109 | 0.0 | +23 | +43 | 0.0 | +64 | 0 | 257 | 3.2 |
Mike Stark was a speedy guard who played four years for Syracuse. He had tremendous basketball skills despite his small stature and was an outstanding overall athlete. He was known for an excellent set shot.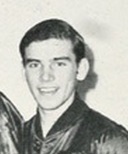 In high school, Stark was All-City in basketball, baseball and football. He was highly touted when he arrived at Syracuse.
Stark played on the varsity his freshman year at Syracuse scoring 100 points, then took a year off from college to fulfill his military obligation. He served in the U.S. Army field artillery.
Stark returned to school for the 1947-48 season. Syracuse would have an abundance of talented guards, and Stark was smaller than most, in an era when size started to matter in college basketball. He would be a starting guard for the first half of his sophomore season, but would eventually return to the reserve roll. He would be a key reserve most of his Syracuse career, often providing a spark to the team when he entered the game.
He would become a teacher and a principal after he graduated. Stark would also be a basketball and football referee, both at the college and high school levels. At the college level he officiated many ECAC football and basketball games.
Stark was inducted into the Syracuse Hall of Fame in 2004, joining his younger brother Pat, who also played basketball at Syracuse from 1952 to 1953. A third brother, Lou played basketball at Syracuse from 1955 to 1956.
©RLYoung 2006, 2007, 2008, 2009, 2015, 2017