| | |
| --- | --- |
| HS: Jamestown | Jamestown, NY |
Season Stats

| Season | Cl | Pos | G | GS | FG | FGA | % | FT | FTA | % | Fls | DQ | Pts | PPG |
| --- | --- | --- | --- | --- | --- | --- | --- | --- | --- | --- | --- | --- | --- | --- |
| 1945-46 | Fr | C | 27 | 27 | - | - | | - | - | | - | - | 309 | 11.4 |
| 1946-47 | So | C | 25 | 24 | - | - | | - | - | | - | - | 207 | 8.3 |
| 1947-48 | Jr | C | 24 | 23 | 65 | - | | 55 | 83 | 66.3% | 78 | - | 185 | 7.7 |
| 1948-49 | Sr | C | 25 | 25 | 98 | 243 | 40.3% | 54 | 75 | 72.0% | 85 | - | 250 | 10.0 |
| Career | | | 101 | 99 | +163 | +243 | 0.0 | +109 | +158 | 0.0 | +163 | 0 | 951 | 9.4 |
Royce Newell was the starting center for Syracuse basketball for four seasons. Newell was a tall lanky center with a nice hook shot.
Newell was a starter the first game his freshman year, and was the primary starting center for each season. Newell was agile and tall, which made him a strong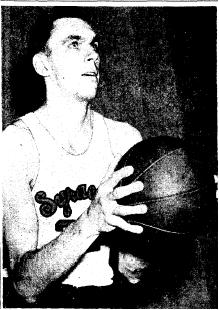 threat on both ends of the court. He did a nice job of clearing the rebounds, and providing scoring from the center. He would up being the second leading scorer on the team behind Billy Gabor his freshman year. He would score a career high 25 points against rival Colgate in February, and lead the Orangemen in scoring three of the last four games that season.
Newell's importance on scoring would decrease his sophomore and junior seasons with the emergence of Ed Stickel as a scoring threat to compliment Gabor. Coach Lew Andreas was having Newell focus more on rebounding and playing defense, as the Orangemen were lacking height as a unit, with Newell the big exception. He would be the third leading scorer on the team his senior season, and finish his career with an impressive 951 points (a high total for that time).
Newell would graduate from Syracuse in 1949, and would begin teaching and coaching at Split Rock. Within a couple of years, he was teaching and coaching at West Genesee High School, eventually becoming the athletic director. He would remain at West Genesee for 33 years. Newell coached the 1958 and 1959 West Genesee Basketball teams to back-to-back Section III titles. He would start and coach the first lacrosse team at West Genesee, a program that eventually would become the premier lacrosse program in New York State.
Newell passed away in 2006 at the age of 77.
©RLYoung 2008, 2015, 2017