| | | |
| --- | --- | --- |
| 5'10" | 170 lbs | Guard/Forward |
| | |
| --- | --- |
| HS: Varsity Court | Newark, NJ |
Season Stats

| Season | Cl | Pos | G | GS | FG | FGA | % | FT | FTA | % | Fls | DQ | Pts | PPG |
| --- | --- | --- | --- | --- | --- | --- | --- | --- | --- | --- | --- | --- | --- | --- |
| 1945-46 | Fr | G/F | 27 | 15 | - | - | | - | - | | - | - | 231 | 8.6 |
| 1946-47 | So | G | 23 | 19 | - | - | | - | - | | - | - | 321 | 14.0 |
| 1947-48 | Jr | G/F | 19 | 18 | 96 | - | | 45 | 83 | 54.2% | 35 | - | 237 | 12.5 |
| 1948-49 | Sr | G | 24 | 24 | 119 | 343 | 34.7% | 69 | 132 | 52.3% | 63 | - | 307 | 12.8 |
| Career | | | 93 | 76 | +215 | +343 | 0.0 | +116 | +215 | 0.0 | +98 | - | 1096 | 11.8 |
Eddie Stickel was a sharp shooting guard for Syracuse for four years. He was a three year starter and a four year letterman. Stickel was known for his push shot from the perimeter. He was described in the Syracuse media guide as a 'deceptive individual with unorthodox abilities'.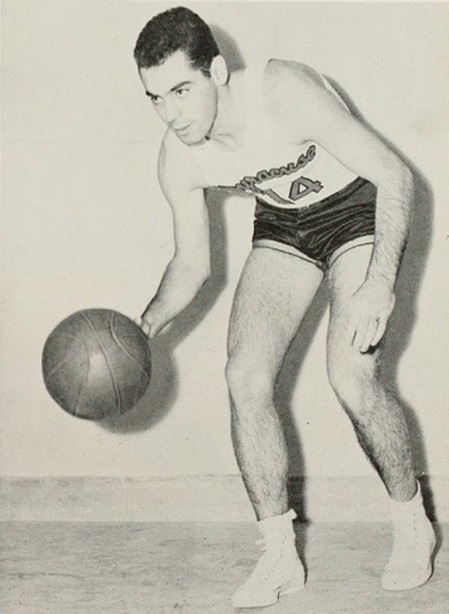 Stickel would play most of his sophomore year with various colds, but still managed to average 14 ppg, one of the best ever up to that time. He missed five games his junior year due to a knee injury. During his senior season he was team captain and became the second Syracuse player ever to score 1,000 points, though he had the distinction of never leading the team in scoring for a season. He was however, consistently one of the top scorers on the team all four seasons.
Stickel scored 38 points in a win over Canisius, March 2nd, 1949 to set a Syracuse record (subsequently broken by Ed Miller two seasons later).
His senior year he was also the campus treasurer for the student body. Following graduation, Stickel played a while for the Altoona Flyers.
Stickel remained an avid Syracuse fan throughout his life. He passed away in the fall of 2008[1].
[1] Supporting information from Rich Stickel.
©RLYoung 2006, 2007, 2008, 2015, 2017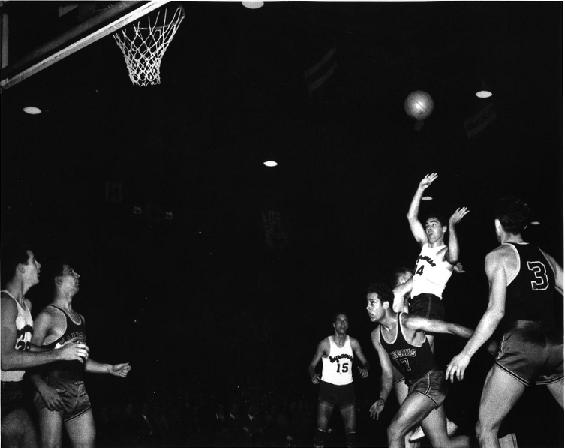 Ed Stickel launches another shot with flair. Photo submitted by Rich Stickel, restored from Post Standard archives.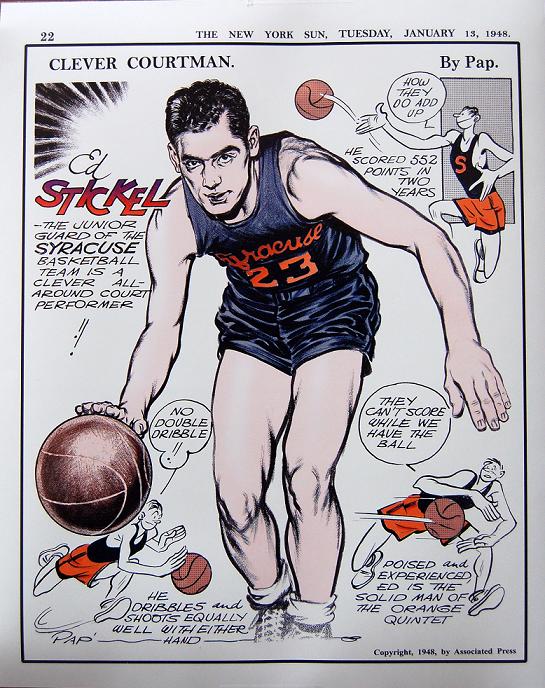 Poster drawn by Thomas 'Pap' Paprocki, January 13th, 1948 for the New York Sun, regarding the City College of New York game. Submitted by Rich Stickel