| | |
| --- | --- |
| 1939-1940 Syracuse Orangemen | |
Coach: Lew Andreas
The Orangemen would have a relatively inexperienced team with the graduation of all five starters from the previous season, along with two of the regular reserves. Coach Lew Andreas would have to hope that some of the new sophomores on the team would make a difference, and that the returning veterans could fill the void. The team captain was forward Dick Jensen. Juniors Stan Kruse, Paul Kartluke, Paul McMillen and Chris Kouray would be leaned on heavily, and sophomores Dud Thorne, Gene Berger, Ray Willmott and Don Sayle would hopefully help out. Andreas would juggle his lineup all season long.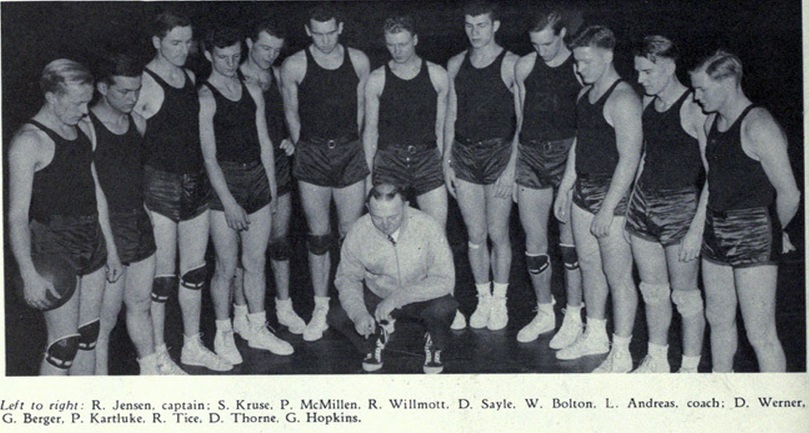 Paul Kartluke would emerge as the big scorer for the Orangemen, and the team relied significantly on him. He would tie Vic Hanson's school record 25 points in a win over Clarkson in the second game of the season.
The next game Stan Kruse would sink a basket with 45 seconds to play to beat Cornell on December 19th. A couple of games later, Syracuse blew a 13 point second half lead to Princeton, and would lose the close game 38-36. The team would struggle with consistency, and putting together a full solid game for most of the year.
In early January, Syracuse led Michigan State 29-27 with two minutes to play, but lost when the Spartans rallied.
Kartluke would score 27 points against St. Lawrence to break Vic Hanson's single game scoring record in a 49-37 win. In the next game, Colgate would hold Kartluke to six points in the first half. However, in the second half Kartluke would explode for 20 points. Syracuse trailed Colgate 44-43 as time was expiring. Syracuse passed the ball into Kartluke for the 'bucket play', but instead of taking the shot, which he had made all night, Kartluke kicked the ball to Kruse who shot the game winner.
Three nights later Syracuse lead Niagara 12-7, when Niagara would go on an 18 point streak, to easily take the game away from the Orangemen. Against Army seldom used Leo Canale missed a free throw as time expired, leaving the game tied 44-44. Army would win it in overtime with Arky Vaughan hitting a free throw with 2 minutes remaining, and neither team scored again.
Syracuse would lead rival Colgate 26-18 at half of last game of season. Once again the Orangemen would fail to hold the lead, as Colgate rallied back to win 49-39.
Bobby Twiford would miss most of the season for medical reasons, and Paul McMillen would fight an early season ailment that would hamper his conditioning all season.
© RLYoung 2005, 2008, 2015