| | |
| --- | --- |
| HS: Hun School | Trenton, NJ |
Season Stats

| Season | Cl | Pos | G | GS | FG | FGA | % | FT | FTA | % | Fls | DQ | Pts | PPG |
| --- | --- | --- | --- | --- | --- | --- | --- | --- | --- | --- | --- | --- | --- | --- |
| 1937-38 | So | G | 2 | 0 | 0 | | | 0 | | | | | 0 | 0.0 |
| 1938-39 | Jr | F | 15 | 2 | 11 | | | 6 | | | | | 28 | 1.9 |
| 1939-40 | Jr | F | 16 | 7 | 15 | | | 11 | | | | | 41 | 2.6 |
| Career | | | 33 | 9 | 26 | 0 | 0.0 | 17 | 0 | 0.0 | 0 | 0 | 69 | 2.1 |
Dick Jensen was a forward on the Syracuse basketball team for three seasons.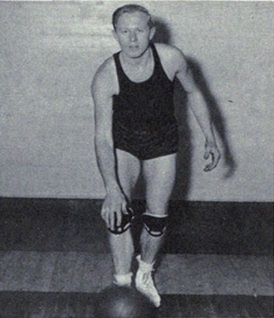 Jensen barely played his sophomore season, appearing in only two games and failing to score. In his junior season, the team was loaded with several talented seniors; Jensen would be one of the top reserves on the team.
Jensen was named the team captain for his senior year. Though he was the captain, coach Lew Andreas would make a lot of continuous shifts in the lineup, and Jensen would spend time as a starter and as a reserve. He would score a career high 7 points in a victory over Penn.
Upon graduation from Syracuse, Jensen served in the US Army for four years during World War II. He was a Captain attached to the Supreme Headquarters in Europe.
Jensen would work for Union Carbide for most of his career. He would work in Conneaut, Ohio, Florence, SC and Germany. [1] He had played semi-pro basketball for a few years at the beginning of his career.
Jensen passed away in 2009.
©RLYoung 2015
[1] Thomas Shepherd & Son Funeral Directors, Richard F. Jensen obituary