| | |
| --- | --- |
| HS: Mont Pleasant | Schenectady, NY |
Season Stats

| Season | Cl | Pos | G | GS | FG | FGA | % | FT | FTA | % | Fls | DQ | Pts | PPG |
| --- | --- | --- | --- | --- | --- | --- | --- | --- | --- | --- | --- | --- | --- | --- |
| 1937-38 | So | G/F | 11 | 4 | 9 | | | 5 | | | | | 23 | 2.1 |
| 1938-39 | --- | DNP | 0 | 0 | 0 | 0 | --- | 0 | 0 | --- | 0 | 0 | 0 | 0.0 |
| 1939-40 | Jr | G/F | 18 | 10 | 40 | | | 11 | | | | | 91 | 5.1 |
| 1940-41 | Sr | G/F | 17 | 17 | 63 | | | 17 | | | | | 143 | 8.4 |
| Career | | | 46 | 31 | 112 | 0 | 0.0 | 33 | 0 | 0.0 | 0 | 0 | 257 | 5.6 |
Stan Kruse was a stocky guard for Syracuse basketball for three seasons. His last name was Kruszewski, he started using Kruse during his junior season. He was known as a good ball handler and would develop into a solid scorer. Kruse was also a golf star at Syracuse lettering in 1938 and 1939.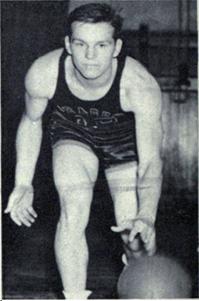 Kruse was a high school teammate of fellow Orangemen Chris Kouray, Paul Podbielski and Don MacNaughton at Mont Pleasant High School.
Kruse was impressive on the freshman team and considered the top prospect for the varsity by freshman coach Ribs Baysinger. Kruse would earn a starting position at the beginning of his sophomore season. He would be injured and miss action until mid-February. He would leave school the next season, returning in the fall of 1939.
Kruse would move into the starting lineup his junior season. He was developing a good perimeter shot and becoming a solid scorer. He would be third in scoring on the team that year, and was developing a knack for hitting game winning shots. He would hit the game winners his junior year against Cornell and Colgate.
Kruse would be second on the team in scoring his senior season. In a game in Rochester in January, Syracuse trailed by a basket with time running out. In front of a noisy and hostile crowd, the Orangemen pushed the ball quickly down the court, and Kruse made a shot as time expired giving the Orangemen the apparent win. Several Syracuse fans stormed the court in celebration. However, the officials would eventually waive off the basket, citing that the bell had rung ending the game, which was not heard because of the fan noise. So the Orangemen would end up losing by one.
Kruse would graduate from Syracuse in 1941. He would serve as a lieutenant in the Army Air Corps in World War II.
In 1946 he was named the athletic director of St. John the Baptist in Syracuse, and coached the basketball, baseball and football teams. In the 1946-47 season he would play for the Utica Pros in the New York State Basketball League, and he would coach the Oneida Indians semi-pro basketball team in 1949.
In the late 1960's Kruse would be a maintenance supervisor for county golf courses in the Long Beach, CA area and was a scratch golfer [1]. He shot a 61 to set the Lakewood Country Club record.
[1] Long Beach Press Telegram, November 27, 1969
©RLYoung 2007, 2008, 2016