| | |
| --- | --- |
| 1940-1941 Syracuse Orangemen | |
Coach: Lew Andreas
Syracuse had some versatile players to compliment high scoring team captain Paul Kartluke. Fellow senior Stan Kruse had developed into a solid scorer, and sophomore Dan DiPace was a sharp shooting forward. Gene Berger and Don Sayle rounded out the starting five. The Orangemen would have experienced depth on the bench with upperclassmen Chris Kouray, Bobby Twiford, Paul McMillen, and Ray Willmott.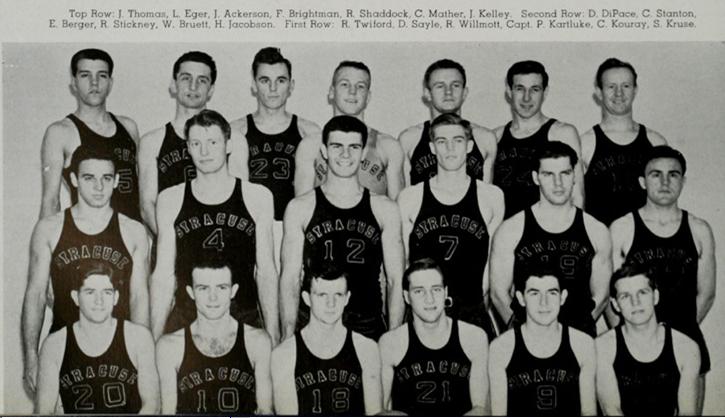 The Orangemen had a great start to season, winning their first four games by a combined scored of 233-102. Kartluke set the school single game scoring record against St. Lawrence with 27 points; he averaged 20 ppg for the first four games.
Sayle would injure his leg against Clarkson, forcing him to miss most the rest of the season, which would require adjustments in the lineup. Syracuse would lose four of their next five games, including a controversial loss to Rochester. It was a closely fought game in front of a noisy crowd, and Rochester scored to take a one point lead as time was running out. Syracuse pushed the ball down the court, and Kruse took a shot and made the basket; several fans stormed the court. However, officials ruled the bell had rung before the shot was taken (and wasn't heard because of the crowd noise) thus disallowing Kruse's game winning shot.
Coach Andreas would continue to juggle his lineup, offsetting occasional injuries and trying to find the best matchups. McMillen would leave the team in January to join the army, and Twiford was declared academically ineligible in February. Syracuse would win four in row, before losing to rival Colgate. Kartluke would hurt his leg in the loss, and Syracuse would lose their star scorer. He had been on pace to break Vic Hanson's single season scoring record.
Andreas would finally settle into a starting lineup (albeit, one without Kartluke and Sayle). Sophomore Red Stanton, who had shown several strong outings was inserted into the starting lineup at center; Berger would move from center to guard. They would beat both Penn State and New York University, revenging losses from earlier in the season. Kartluke and Sayle both would return for the final game of the season, as the Orangemen would pay back another defeat from earlier in the season, this time beating rival Colgate.
The team would finish at 14-5.
© RLYoung 2005, 2006, 2007