| | |
| --- | --- |
| HS: Brown Prep | Philadelphia, PA |
| HS: Corning Free Academy | Corning, NY |
Season Stats

| Season | Cl | Pos | G | GS | FG | FGA | % | FT | FTA | % | Fls | DQ | Pts | PPG |
| --- | --- | --- | --- | --- | --- | --- | --- | --- | --- | --- | --- | --- | --- | --- |
| 1938-39 | So | C/F | 18 | 4 | 10 | | | 20 | | | | | 40 | 2.2 |
| 1939-40 | Jr | C/F | 10 | 4 | 3 | | | 3 | | | | | 9 | 0.9 |
| 1940-41 | Sr | C | 5 | 1 | | | | | | | | | 9 | 1.8 |
| Career | | | 33 | 9 | +13 | 0 | 0.0 | +23 | 0 | 0.0 | 0 | 0 | 58 | 1.8 |
Paul McMillen was a member of the Syracuse basketball team for three seasons. McMillen would show a lot of promise his sophomore year but injuries and academics would derail his career.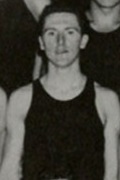 McMillen was one of the top reserve players his sophomore season, backing up senior center Mark Haller. He would be the seventh highest scorer that season.
McMillen was a starting forward at the beginning of his junior season. However, he would suffer some ailments that would force him to miss some game time, and then it impacted his conditioning for the remainder of the season. McMillen played with the team at the start of his senior season, but was forced to leave the team due to academic issues.
McMillen would resolve his academic issues and graduate from Syracuse in 1942. He became the physical education director at West Winfield Central school in 1943, and also coached football, baseball, basketball and track. He would be coaching Waverly High School basketball by 1946.
McMillen died in an automobile accident in 1946 in Elmira, New York.
©RLYoung 2015