| | |
| --- | --- |
| 1936-1937 Syracuse Orangemen | |
Coach: Lew Andreas
Syracuse returned most of the starters from the previous season's successful squad. However, a talented sophomore class arrived and challenged the returning letterman for playing time. Syracuse started the year with their 'S-Men' starting five: co-captain Johnny Simonaitis and sophomore Johnny Schroeder at guard, Ed Sonderman at center, and sophomores Bobby Stewart and Wilmeth Sidat-Singh at forward. Lew Andreas had a deep team with co-captain Johnny Balinsky leading the bench, along with John Gorecke, Norm Leavitt, Vic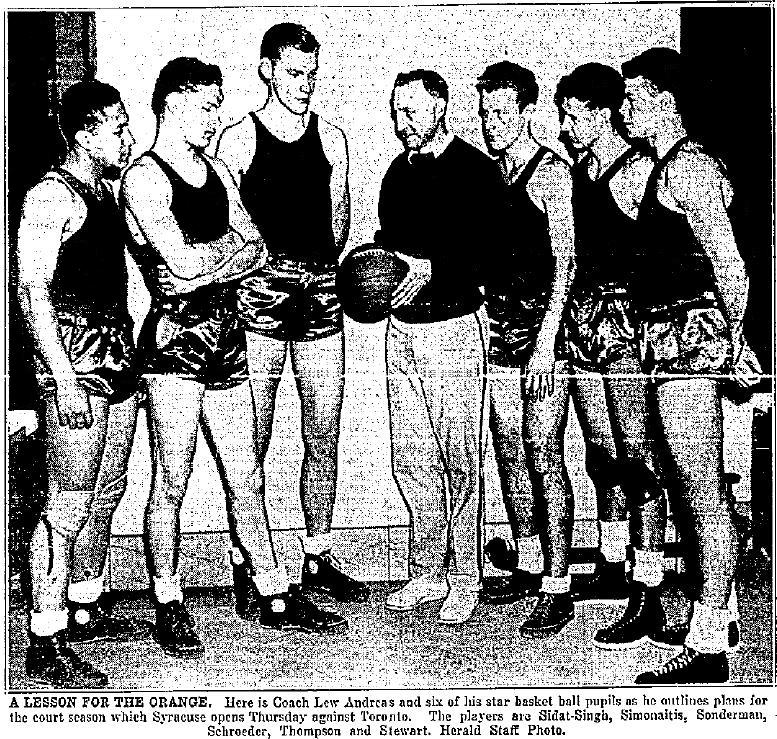 Baylock, Billy Thompson and Don MacNaughton on the bench.
The Orangemen would win their first six games with relative ease. In January they were on a six game road trip where they would not play at home for a month. They would also lose four of their next six games with losses to Notre Dame, Michigan State, Georgetown and Army. Andreas was not happy with the defensive effort of the team and was juggling the line up frequently, often not disclosing the starting lineup until game time.
Sonderman would hurt his leg in the Michigan State game, and would be in the infirmary for two weeks. The schedule favored the injury, as he would miss only one game, though even when he returned he was not ready to start for a few games; these included the Georgetown and Army losses, where his dominating presence would have helped.
The Orangemen would win their last five games, starting off with an impressive win over highly favored Penn (who had been undefeated in Eastern League play) behind 18 points from a now healthy Sonderman. Stewart would get cut over the eye in the Cornell game and miss the last three games of the season. Sonderman would lead the team in scoring at 9.5 ppg, with Thompson closely behind at 8.5 ppg.
© RLYoung 2005, 2006, 2008