| | |
| --- | --- |
| 1942-1943 Syracuse Orangemen | |
Coach: Lew Andreas
The nation was in the midst of World War II, and the young men across the country were enlisting and being drafted into the military. This was the backdrop to the season being played.
Senior Dan DiPace was the team captain. The team struggled early in the season. Then Coach Lou Andreas made a move to speed up the tempo of the game, inserting freshman Billy Gabor and senior Bob Shaddock into the starting line up. The Orangemen started to click, and some high scoring individual performances would occur.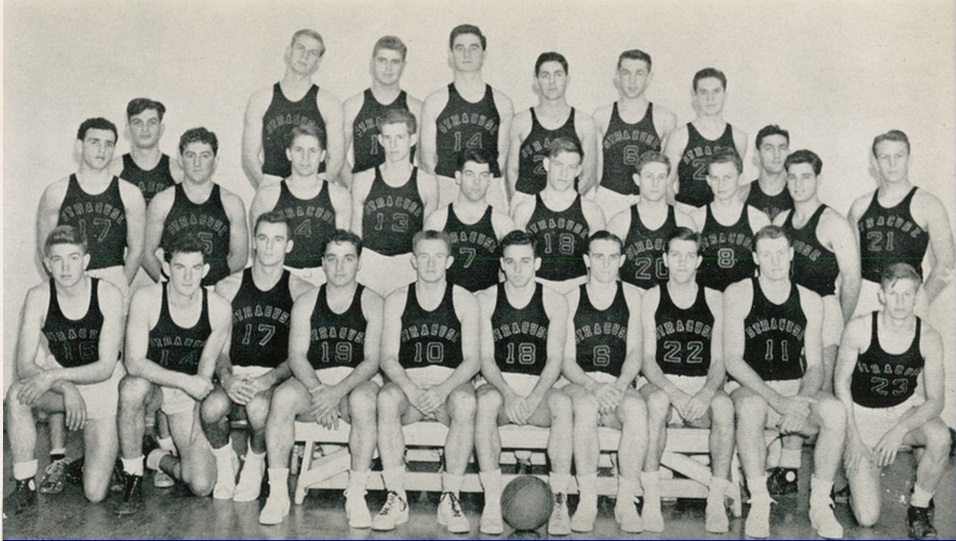 On February 24th, Gabor would set the Syracuse single game scoring record with 28 points. The record would be short lived, as Shaddock would score 33 points on February 27th versus Colgate. Gabor would end up leading the team in scoring, Shaddock would be second.
Unfortunately, the effects of the war would continue to play havoc on the teams season. Red Stanton and Paul Ferris both left the team mid season due to military service.
The Orangemen would play Georgetown in the second to last game of the season. Syracuse trailed 40-38 when Tom McTiernan was fouled as time expired. McTiernan would make both his free throws to send the game into overtime. Unfortunately the Hoyas would outscore the Orangemen 7-6 in the overtime to win the game.
The last game of the season versus Penn State was cancelled by mutual agreement as six more of Syracuse's primary players had to leave for duty in the Army. This included Billy Gabor, Bob Shaddock, Andy Mogish, Roy Peters, Tom McTiernan, Jim Ackerson, John Emerich, Bud Elford, and Dick Casey.
[Scoring is missing for two games indicated by the +]
© RLYoung 2005, 2006, 2008, 2014, 2015, 2016, 2018