| | |
| --- | --- |
| 1929-1930 Syracuse Orangemen | |
Coach: Lew Andreas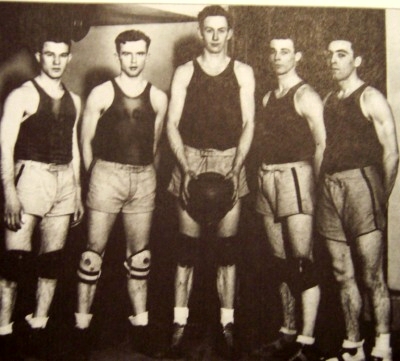 Syracuse returned its top five players from the previous year, so expectations were high. Sophomore Slim Elliott beat out senior Johnny Harwood for the center position, giving the Orangemen some height up front. Elliott, along with captain Lou Hayman, Dan Fogarty, Ev Katz, and Ken Beagle formed a fleet footed quintet nicknamed the 'Reindeer Five'. The team had balanced scoring, and speed at every position.
The Orangemen would win their three home games in December with relative ease. They would make a three game midwest road trip to start the new year. The Orangemen played a close game with the Michigan State Spartans, and the game was tied 19-19. Sophomore reserve George Armstrong would hit a half court shot with a minute to go to tie the game for the Orangemen. Armstrong then would tip in a basket moments later to win the game.
The team then split back-to-back road games with Creighton, with the Blue Jays winning the first game, and the Orangemen winning the second.
The Orangemen would travel to Philadelphia to face Eastern basketball's top team the Penn Quakers, winners of nine straight games. However, Syracuse jumped out to a quick 9-0 start, with Katz leading the way. Katz would hurt his ankle in the second half, but remained in the game. The Quakers made a run towards the end of the game, but were never able to catch the Orangemen as Syracuse pulled the upset 30-27.
The team would win ten straight games before going to Columbia in late February. The game was a very physical game, and Syracuse led 16-12 at halftime. Syracuse led 23 to 16 with ten minutes to go, when foul trouble started to hurt both teams. Fogarty, Katz and Elliott had all fouled out for Syracuse at that point, as well as two Columbia players. Columbia would rally and take the lead 30-29 with 3 minutes left in the game, and would hold on to win 34-31.
Syracuse would win its next three games easily before taking on rival Colgate to finish the season. Syracuse had easily beaten Colgate in January, but the finale was closer. Syracuse lead 22-10 when Elliott had to leave the game due to fatigue. Colgate would rally to make the game 22-21, when Syracuse reserve Zangwill Golobe turned the tide. Golobe would win the last few center jumps, and rush around the court defensively and offensively causing positive disruptions for the Orangemen. Syracuse would pull back out to 24-21, and Golobe would make the final basket to seal the win 26-21.
Syracuse finished the year at 18-2, the second most wins in club history at that point.
[Scoring missing from the Alfred game indicated by the +]
©RLYoung 2005, 2006, 2008, 2014, 2015, 2018