| | |
| --- | --- |
| 1924-1925 Syracuse Orangemen | |
Coach: Lew Andreas
Syracuse started the season with captain Hank Greve in the backcourt with Phil Rakov, Sidney Mendelson at forward joined by Tomasso, and Morris at center. Vic Hanson, star from the previous season's freshman team was just wrapping up the football season, and would be a reserve for the first game.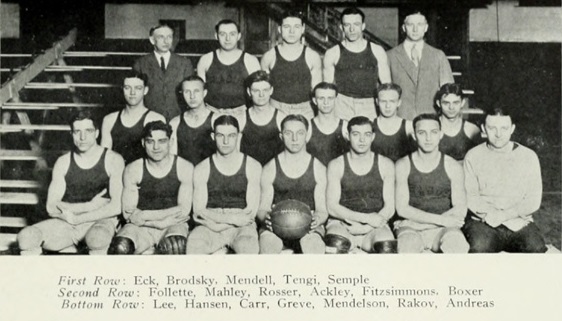 The first few games of the season were easy victories for the Orangemen. Coach Lew Andreas was quickly aware of the stellar play of his sophomores Charlie Lee and Gotch Carr. They were excellent with their ball movement and rebounding efforts, and they would join the starting lineup.
Hanson was living up to his reputation, and was proving to be a outstanding scorer. Teams were often double teaming him, or fouling him frequently to prevent him from shooting field goals. The team had depth in talent however, in those games where opponents focused too much on Hanson, Mendelson and Greve would pick up the scoring. Against Colgate, the Orangemen would trail 24-23 with under two minutes to go. With Hanson under tough coverage, Greve would take control and score four points as Syracuse beat its top rival 27-24.
At the end of February the Orangemen would play a tough stretch where they had four games in five days, including some of their top competition. The first of those games was against Pittsburgh. Hanson was ejected from the game for stating 'five choice words' to the official, and Lee and Mendelson would foul out. However, Greve and Carr would be able to lead the reserves in holding off Pitt down the stretch. They would not be as fortunate two days later as highly rated Penn would beat them in Philadephia 21-18.
They would beat the Army Seventh Regiment easily, though the game would be costly as Hanson would injure his foot and be unable to play in the Penn State game. The loss of Hanson and Rakov (who was also out) hampered the Orangemen in a close loss 24-22. Hanson would miss one more game before returning for the Colgate game, where he would lead the team to victory with 11 points.
Syracuse would finish the season against Penn State, this time with both Hanson and Rakov on the court. The Orangemen would win rather easily 35-27, completing a successful 15-2 season.
©RLYoung 2005, 2006, 2007