| | |
| --- | --- |
| 1927-1928 Syracuse Orangemen | |
Coach: Lew Andreas
Coach Lew Andreas knew it would be a difficult year as the departure of Vic Hanson, Charlie Lee and Gotch Carr was going to leave him with a big void to fill. The bright spots were big men team captain Bill Eisemann and Stan Richtmeyer. Senior Manny Rosen would start at one of the guard positions. Andreas would rotate his lineup throughout the season to get what he believed was a favorable matchup and would often substitute deep into the bench. Sophomore Johnny Harwood would start many of the early season games at forward along with classmate Paul Horowitz. Willie Walkov would play wherever on the court Andreas needed him, and Richtmeyer, an outstanding defender would be moved to the position in best need of defense for that game. Bob Lambert would improve over the course of the season, and become a viable offesnive threat to help the Orangemen out.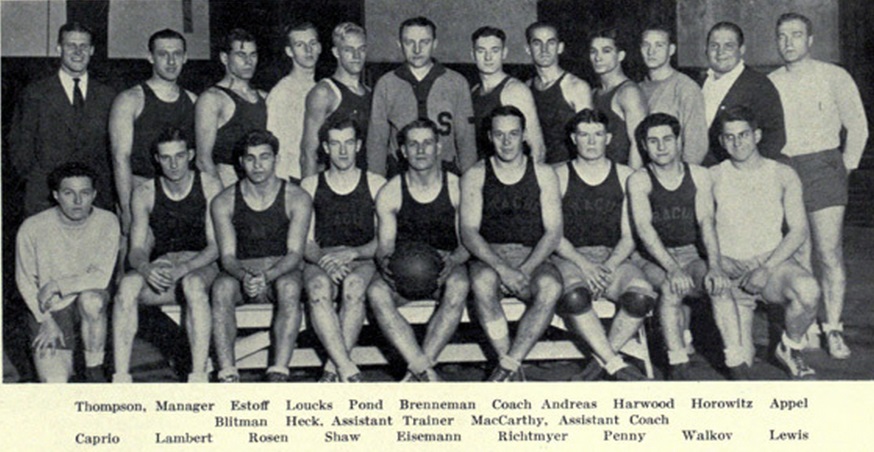 Syracuse would start the season with three wins before losing to a very talented Pittsburgh team 45-24. The Orangemen would then win two tough road games against Penn State and Union, with Eisemann leading the way. They would trail Fordham significantly at the half, and make a furious comeback in the second half, only to fall short in a 31-29 loss. Syracuse would close out the first half of the season with an easy 47-19 win over Hobart, bringing their record to 6-2.
The winter break was not kind to the Orangemen as several of the players were struggling academically during the first semester. The test results from the athletes would be critical to see if they all were eligible to play in the second semester, and those results would be released shortly at the beginning of the next semester. Syracuse would start the second semester 0-2 with losses to Penn and Colgate. Then the bad news hit that Eisemann was academically ineligible to play; a big blow to the team in losing their team captain and leading scorer (he had led the team in scoring eight of the ten games). Richtmeyer would assume the captain position.
Syracuse would beat Clarkson, before being badly beaten by St. Lawrence and Rochester. In both losses, the Orangemen were greatly outplayed. Sophomore Tony DeFilippo, who had not been on the squad the first semester, joined the starting lineup in the Rochester loss. He turned out to be the spark Syracuse needed down the stretch, as the Orangemen would win their last three games. DeFilippo scored 14 points in the Cornell game, a close 29-27 victory. DeFilippo would then lead the team with 12 points in a convincing 28-15 win over rival Colgate to end the season.
©RLYoung 2005, 2006, 2008, 2014