| | |
| --- | --- |
| 1941-1942 Syracuse Orangemen | |
Coach: Lew Andreas
The season started full of optimism with a veteran unit returning. Top scorers Paul Kartluke and Stan Kruse had graduated, but junior Dan DiPace was being looked upon to shoulder the scoring burden, and last year's freshman sensation Joe Glacken was joining the varsity squad. Senior captain Don Sayle had fully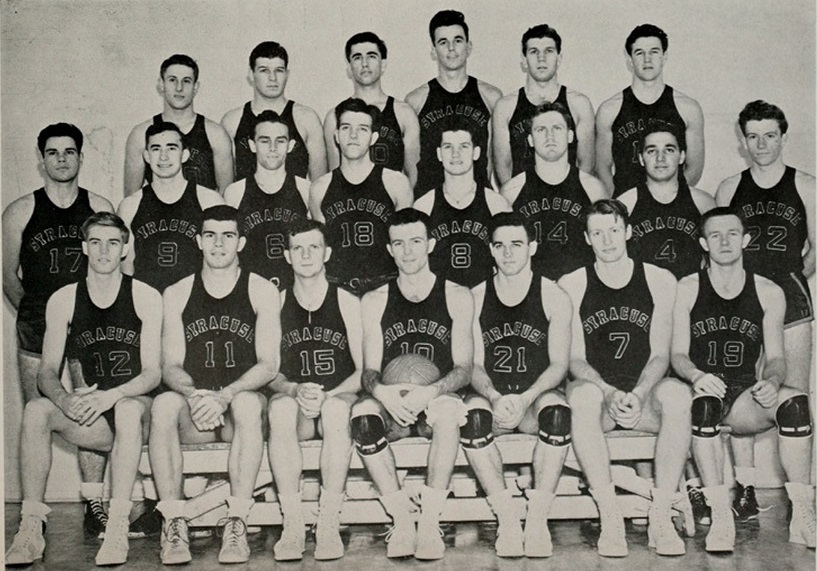 recovered from his leg injury from the previous season, and would provide the defensive presence up front. He would be joined by classmate Ray Willmott who would provide steady leadership. Veteran big men Red Stanton and Gene Berger were being counted on to provide muscle and size inside.
The focus on the season would quickly change. On December 7th, the morning after their exhibition game with Springfield, the United States would enter World War II as the Naval Base at Pearl Harbor was attacked by the Japanese navy.
Syracuse would start out 3-0, before going on a three game losing streak, including close efforts to New York University and Michigan State. Coach Lew Andreas wanted to get more speed and quickness into the lineup, so inserted sophomore Joe Sylvestri and junior Bob Shaddock into the lineup. Both had played well in the last two losses, and Andreas wanted their speed, willing to give up size and speed. Glacken had been playing well as a reserve, and Andreas wanted to keep him as his top option off the bench.
The new combination would work as the Orangemen would go on a modest three game winning streak. The addition of Shaddock into the lineup gave Syracuse three scoring options on the court, with DiPace and Glacken vying for high honors. Unfortunately, in a lopsided win over rival Colgate, DiPace would seriously injure his knee. He would be unable to play in three games, and limited in the last two. Without his presence the Orangemen would lose an overtime game to Penn State 37-36, and a lopsided game to Niagara 36-24.
The team would finish the season with another win over rival Colgate. Glacken would finish the season as the high scorer though he played most of the season from the bench, and the Orangemen would finish with a 15-6 record.
© RLYoung 2005, 2006, 2007, 2008, 2009, 2010