| | |
| --- | --- |
| 1930-1931 Syracuse Orangemen | |
Coach: Lew Andreas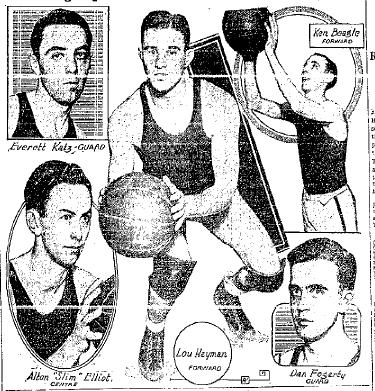 Syracuse was coming off of a very successful season and the top six players all returned. Lew Andreas had his Reindeer Five back with Dan Fogarty and captain Ken Beagle at guard, Ev Katz and Lew Hayman at forward and Slim Elliott at center. George Armstrong was expected to be a valuable sixth man.
Unfortunately injuries would hit the Orangemen hard before the season even began. Several expected contributors were nursing injuries from other sports, and Armstrong was ruled academically ineligible for the first semester. The Orangemen would only be able to field six players to start the season, which was the Reindeer Five, Zangwill Golobe, and Milt Katz.
Syracuse opened the season with a road loss to Dartmouth. They would then have two lopsided wins before taking on highly rated Columbia. Syracuse would lead the game 29-19, before Columbia staged a furious comeback. The Orangemen however held on to win 32-28, with Hayman leading the way with 14 points. Fogarty did an outstanding job of guarding Columbia's top scorer Bender, and held him to only 3 points, all on free throws.
The Orangemen then played lowly rated Pittsburgh down at the Pitt Pavilion. The Panthers jumped out to a quick lead, and though Syracuse tried hard to battle back, they never could tie the game up. The Panthers would win 31-28.
Hayman, who was Syracuse's leading scorer at the time, was ill in early January and missed two games as a result. His missing presence was big in a lopsided 25-16 loss to St. John's.
Hayman would return, and a couple of games later they team played a tough Penn Quaker team. Syracuse would jump out to a 10-0 lead. The Quakers would battle back, and the game was all tied up with 3 minutes left to play. Ev Katz would hit the game winning shot, and Hayman would follow up later with a free throw to seal the 24-21 win.
Syracuse would win six straight games before facing Creighton on two back-to-back home games. Just like the previous year, Syracuse would split the two games with the Blue Jays with the Orangemen winning the first game and losing the second
The Orangemen faced Notre Dame in early March. Syracuse held a two point lead as time wound down, when the Fighting Irish's Neubold stole the ball and made a game tying shot as time expired. However, Syracuse would push the offensive tempo in overtime with Hayman driving the full length of the court, and Notre Dame could not keep up the pace. The Orangemen would outscore the Irish 8-3 in the overtime to win the game 28-23.
Syracuse then finished the season with a win over rival Colgate.
© RLYoung 2005, 2006, 2008, 2014