| | |
| --- | --- |
| HS: Mont Pleasant | Schenectady, NY |
| | |
| --- | --- |
| Born: 1917 | Schenectady, NY |
Season Stats

| Season | Cl | Pos | G | GS | FG | FGA | % | FT | FTA | % | Fls | DQ | Pts | PPG |
| --- | --- | --- | --- | --- | --- | --- | --- | --- | --- | --- | --- | --- | --- | --- |
| 1936-37 | So | F | 7 | 0 | 1 | | | 1 | | | - | - | 3 | 0.4 |
| 1937-38 | Jr | F | 5 | 0 | 0 | | | 1 | | | - | - | 1 | 0.2 |
| Career | | | 12 | 0 | 1 | 0 | 0.0 | 1 | 0 | 0.0 | 0 | 0 | 4 | 0.3 |
Paul Podbielski was a reserve forward for Syracuse basketball for two seasons; he did not play basketball his senior year.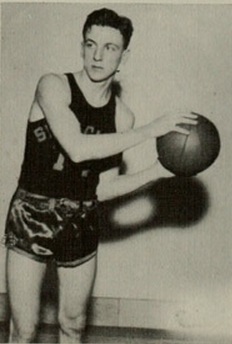 Podbielski would graduate from Syracuse in 1939, and would attend Albany Law School. He would enter the Navy in June 1940 as an officer, and would serve on two aircraft carriers during World War II, both of which were hit by enemy fire. Podbielski would remain in the Navy for a career. He retired in 1962 at the rank of Lt. Commander.[1]
Podbielski would earn his Masters Degree in Education from SUNY Oneonta following his Naval retirement. He would teach elementary education in South Glens Falls and Niskayuna, NY, until he retired in 1982.
He passed away in 1988.
© RLYoung 2014
[1] Schenectary Gazette, Dec 14, 1988, obituary