| | |
| --- | --- |
| HS: Madison | Rochester, NY |
Season Stats

| Season | Cl | Pos | G | GS | FG | FGA | % | FT | FTA | % | Fls | DQ | Pts | PPG |
| --- | --- | --- | --- | --- | --- | --- | --- | --- | --- | --- | --- | --- | --- | --- |
| 1936-37 | So | F | 14 | 14 | 24 | | | 14 | | | - | - | 62 | 4.4 |
| 1937-38 | Jr | F | 15 | 13 | 55 | | | 30 | | | - | - | 140 | 9.3 |
| 1938-39 | Sr | F/C | 17 | 15 | 46 | | | 31 | | | - | - | 123 | 7.9 |
| Career | | | 46 | 42 | 125 | 0 | 0.0 | 75 | 0 | 0.0 | 0 | 0 | 325 | 7.1 |
Bobby Stewart was an outstanding basketball player for Syracuse University for three seasons. Stewart was part of Syracuse's famed S-Men which included Johnny Simonaitis, Ed Sonderman, Johnny Schroeder, and Wilmeth Sidat-Singh.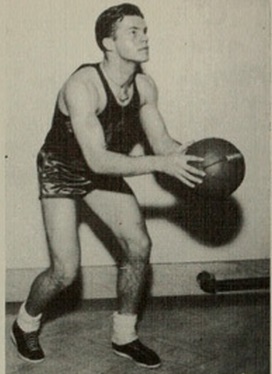 Stewart was a terrific scorer and would be a starter all three seasons, and was consistently one of the top scorers.
Stewart would hit the game winning shot to be highly rated Penn his junior year, as Syracuse won 42-39. He would lead the Orangemen win 10 points in a 25-23 win over Niagara in the next game. That game would prove to be costly however, as Stewart broke his collar bone and would miss the next four games. Despite missing that playing time, he would still lead the team in scoring for the season.
Stewart would be the team captain his senior year. He, Mark Haller, and Sidat-Singh would trade off scoring honors that season.
Stewart would graduate from Syracuse in 1939. He would later work for Michigan State as its director of scholarships. He would officiate high school basketball and football in Michigan. He played professional basketball from 1939 to 1941, and in 1946 for the Rochester Seagrams and the Syracuse Reds.
He passed away in 1972.
© RLYoung 2014, 2016