| | |
| --- | --- |
| HS: Yonkers High | Yonkers, NY |
Season Stats

| Season | Cl | Pos | G | GS | FG | FGA | % | FT | FTA | % | Fls | DQ | Pts | PPG |
| --- | --- | --- | --- | --- | --- | --- | --- | --- | --- | --- | --- | --- | --- | --- |
| 1936-37 | So | G | 13 | 8 | 10 | | | 1 | | | - | - | 21 | 1.6 |
| 1937-38 | Jr | G | 18 | 18 | 48 | | | 26 | | | - | - | 122 | 6.8 |
| 1938-39 | Sr | G | 18 | 16 | 39 | | | 11 | | | - | - | 89 | 4.9 |
| Career | | | 49 | 42 | 97 | 0 | 0.0 | 38 | 0 | 0.0 | 0 | 0 | 232 | 4.7 |
Johnny Schroeder was a starting guard for three seasons. He was part of the famed 'S-Men' team at Syracuse that included himself, Wilmeth Sidat-Singh, Johnny Simonaitis, Bobby Stewart, and Ed Sonderman.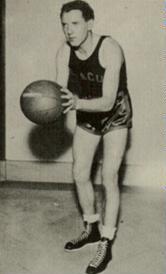 Schroeder led Yonkers High to three consecutive state championships before attending Syracuse.
Schroeder shared starting time with junior Vic Baylock at the guard position his sophomore season. As a junior, he was the only member of the Orangemen to remain healthy all season, starting all eighteen games. He would guide Syracuse to a 14-4 record his senior year.
Schroeder went to seminary school after college. He became a church pastor, until he retired in 1982. He served as a chaplain in the Navy.
He played two years of professional basketball, with one season with the Syracuse Reds (1939-1940) and one with the Newark Elks (1940-1941).
Schroeder passed away in 2011.
© RLYoung 2005, 2006, 2007, 2008, 2010, 2016