| | |
| --- | --- |
| HS: Peddie School | Hightstown, NJ |
Season Stats

| Season | Cl | Pos | G | GS | FG | FGA | % | FT | FTA | % | Fls | DQ | Pts | PPG |
| --- | --- | --- | --- | --- | --- | --- | --- | --- | --- | --- | --- | --- | --- | --- |
| 1936-37 | So | F | 17 | 14 | 61 | | | 22 | | | | | 144 | 8.5 |
| 1937-38 | Jr | F | 15 | 15 | 53 | | | 24 | | | | | 130 | 8.7 |
| 1938-39 | Sr | G | 18 | 16 | 37 | | | 19 | | | | | 93 | 5.2 |
| Career | | | 50 | 45 | 151 | 0 | 0.0 | 65 | 0 | 0.0 | 0 | 0 | 367 | 7.3 |
Bill Thompson was an outstanding athlete who lettered in basketball, baseball and soccer at Syracuse, earning a total of eight varsity letters. Thompson played basketball for three seasons, and was known for his defensive abilities. As a sophomore, he was the second leading scorer on the team behind Ed Sonderman.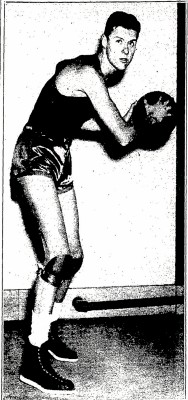 He lettered in baseball in the 1937 and 1938 seasons, batted cleanup and played first base, beating out future major leaguer Jim Konstanty for the position.
In high school, Thompson excelled at baseball and basketball. His roommate was George Case, who would go on to be a tremendous base stealer and All-Star in the American League.
Thompson was an outstanding student, ranked number one in the Syracuse College of Education. Upon graduation, he returned to his alma mater, the Peddie School, as an educator and a coach. He was the master of Social Studies, the intramural director, and the Athletic Director. He also coached both basketball and baseball at the school. Thompson worked in various positions at the school from 1939 until his retirement in 1984.
As a side note, Thompson's older brother Bobby was a star high school basketball playerl; he once scored 69 points in a game and averaged 30 ppg his senior year. He was a star on the Syracuse freshman basketball team in 1922-23, and was recognized as one of the greatest shooting players of all time. However, he had ill health and had to stop playing basketball, permanently. Bobby Thompson would eventually be a team manager for the Syracuse basketball team in the Vic Hanson era.
© RLYoung 2005, 2006, 2008, 2016