| | |
| --- | --- |
| HS: Commercial High | Brooklyn, NY |
Season Stats

| Season | Cl | Pos | G | GS | FG | FGA | % | FT | FTA | % | Fls | DQ | Pts | PPG |
| --- | --- | --- | --- | --- | --- | --- | --- | --- | --- | --- | --- | --- | --- | --- |
| 1922-23 | So | G | 18 | 18 | 26 | - | - | 14 | - | - | - | - | 66 | 3.7 |
| 1923-24 | Jr | G | 18 | 18 | - | - | - | - | - | - | - | - | 114 | 6.3 |
| 1924-25 | Sr | G | 17 | 17 | - | - | - | - | - | - | - | - | 141 | 8.3 |
| Career | | | 53 | 53 | +26 | 0 | 0.0 | +14 | 0 | 0.0 | 0 | 0 | 321 | 6.1 |
Hank Greve was the captain of the basketball team his senior season, and a starting guard all three seasons on the varsity. His first two years of play were described as indifferent before he became a solid force his senior season, second in scoring behind Vic Hanson. He was described as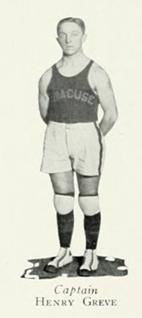 being a decisive playmaker on the court. Greve did not play basketball for the freshman team his first season.
Greve also starred in baseball, playing third base (lettering three times), and played football as an offensive back.
Greve's senior season had a strange twist as the year reached its end. On March 8th. Syracuse was struggling in a close game against rival Colgate at half time. Coach Ed Dollard noticed Greve humming to himself while the team was going to the locker. Upset that his top scoring player was so cavalier in a close game, Dollard immediately suspended him for the remainder of the season, and did not play him in the second half. The Orangemen would lose to Colgate 22-19 [1].
A couple of days later Greve would meet with Dollard and captain Pete MacRae and explain his position. Greve stated that he was upset with the play on the court, and was trying to get everything out of his mind by humming to himself. Dollard, a man who felt that total focus on the game was necessary at all times, accepted Greve's explanation, and re-instated him for the season finale against Penn State.
Greve would play professional basketball for a few seasons. He played for the Greenpoint Knights from 1925 to 1927, and Brooklyn Lithuanians from 1927 to 1929 [2].
Greve passed away in 1979.
© RLYoung 2005-2008, 2014, 2016, 2017
[1] Reading Times, March 10, 1924
[2] Pro Basketball Encyclopedia