Season Stats

| Season | Cl | Pos | G | GS | FG | FGA | % | FT | FTA | % | Fls | DQ | Pts | PPG |
| --- | --- | --- | --- | --- | --- | --- | --- | --- | --- | --- | --- | --- | --- | --- |
| 1924-25 | So | C | 16 | 15 | | | | | | | | | 37 | 2.3 |
| 1925-26 | Jr | G | 20 | 20 | | | | | | | | | 75 | 3.8 |
| 1926-27 | Sr | G | 18 | 18 | | | | | | | | | 79 | 4.4 |
| Career | | | 54 | 53 | 0 | 0 | 0.0 | 0 | 0 | 0.0 | 0 | 0 | 191 | 3.5 |
Charlie Lee played guard and center for Syracuse from 1925 to 1927. He lettered three times in basketball and also lettered the same three years for the football team. As a sophomore, he played center and was a star in the pivot. He was known as a solid all around player with good passing skills, solid defense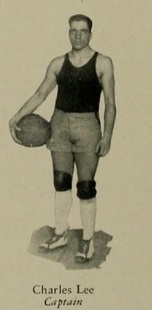 and rebounding.
Lee was a starting guard on the 1926 Syracuse National Champion team, and SU went 48-7 in his three seasons. Along with Vic Hanson and Gotch Carr, he made up Syracuse's 'Three Musketeers'. Lee was captain of the team his senior season. He played guard all his senior year, missing one game because of a turned ankle.
He graduated from Syracuse's law school. In 1932 he was the Assistant Executive Secretary of the Winter Olympic Games in Lake Placid, NY, and was also a member of the U.S. National Bobsled team, winning the North American Championship.
He practiced law in Syracuse for most his career. He served some capacities with Syracuse as a trustee from 1948 to 1952, and was the director of the SU Varsity Club for 11 years.
Lee passed away in 1989.
© RLYoung 2005, 2007, 2014, 2016