| | | |
| --- | --- | --- |
| 5'7" | 160 lbs | Forward/Guard |
Season Stats

| Season | Cl | Pos | G | GS | FG | FGA | % | FT | FTA | % | Fls | DQ | Pts | PPG |
| --- | --- | --- | --- | --- | --- | --- | --- | --- | --- | --- | --- | --- | --- | --- |
| 1924-25 | Jr | F/G | 12 | 1 | | | | | | | | | 14 | 1.2 |
| 1925-26 | Sr | F/G | 8 | 5 | | | | | | | | | 27 | 3.4 |
| Career | | | 20 | 6 | 0 | 0 | 0.0 | 0 | 0 | 0.0 | 0 | 0 | 41 | 2.1 |
Irv Mendell was an outstanding athlete at Syracuse University, lettering in three sports (basketball, football, and boxing). Mendell was a valuable reserve and occasional starter on the strong Vic Hanson led teams.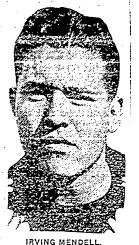 Mendell played both guard and forward on the basketball team. He would be a reserve half back and wide receiver (end) on the football squad. Boxing was the sport he excelled at, and he fought in the 160 lb weight class. Mendell would academically ineligible to play athletics the second semester of his senior year. However, he would graduate from Syracuse in 1926, and would go to graduate school at Yale and St. John's.
Following graduation, Mendell would continue amateur fighting, contending in the middleweight class. He would start using the name Brooks Mendell, which he would later gain fame under. Mendell became an expert at physical fitness, judo, and other martial arts, and would become a renowned expert on self defense and hand-to-hand combat.
During World War II he was hired by the military to teach hand-to-hand combat skills to the U.S. Military. He developed the self defense tactic self-labeled the 'I Do' technique. In 1944, Mendell would write a book entitled 'Protect Yourself - Secret of Unarmed Defense' which was based on self defense. In 1946 he published a follow up manual 'Your Hands... Secret Weapons!'.
Mendell would appear on the television game show 'To Tell The Truth' in 1966. He failed to fool any of the judges, meaning they all guessed who he was.
Mendell was a strong self-promoter, and would tour on the lecture circuit for years demonstrating his techniques and giving speeches, at a rate of a $100 per hour. He became a renowned philanthropist.
Mendell passed away in May of 1996 at the age of 92.
©RLYoung 2009