| | |
| --- | --- |
| HS: Christian Brothers Academy | Syracuse, NY |
| HS: North High | Syracuse, NY |
Season Stats

| Season | Cl | Pos | G | GS | FG | FGA | % | FT | FTA | % | Fls | DQ | Pts | PPG |
| --- | --- | --- | --- | --- | --- | --- | --- | --- | --- | --- | --- | --- | --- | --- |
| 1925-26 | So | C | 20 | 12 | | | | | | | | | 76 | 3.8 |
| 1926-27 | Jr | C | 19 | 19 | | | | | | | | | 153 | 8.1 |
| 1927-28 | Sr | C/F | 10 | 10 | | | | | | | | | 105 | 10.5 |
| Career | | | 49 | 41 | 0 | 0 | 0.0 | 0 | 0 | 0.0 | 0 | 0 | 334 | 6.8 |
Billy Eisemann was a star athlete at Syracuse, as a starting center on the basketball team for three seasons, and the starting catcher for the baseball team for three years. He also played on the freshman football team.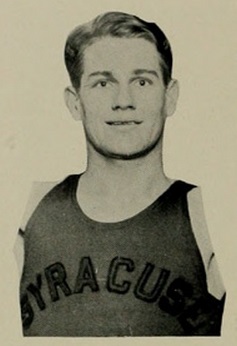 Big Bill Eisemann was the center on the 1926 National Championship team, along with fellow sophomore Stan Richtmeyer. Eisemann was the starting center for all of his junior season (except for a couple of games he started at forward). He had developed into a dominating player, with strong offensive skills, and was the second leading scorer on the team.
He was the team captain his senior season and the starting center. He would lead the team in scoring in eight of the first ten games that year. However, he would be ruled academically ineligible in February and miss the rest of that season. He would still end up leading the team in scoring by 42 points despite missing the last six games of the season.
Following graduation, Eisemann played professional basketball with Vic Hanson's Syracuse All-Americans. He signed a professional baseball contract with the New York Yankee organization and played catcher in the minor leagues at Atlanta, Albany, and Birmingham.
Eisemann died at the young age of 48 in 1953.
© RLYoung 2005, 2007, 2008, 2014, 2016