| | |
| --- | --- |
| 1903-1904 Syracuse Orangemen | |
Coach: John A.R. Scott
Clarence Houseknecht was the team captain, and Earl Rice the team manager. Rice put together an aggressive schedule with a total of twenty games, including a stretch from February 10th until February 23rd where the Orangemen would play ten games in fourteen days, including six on the road!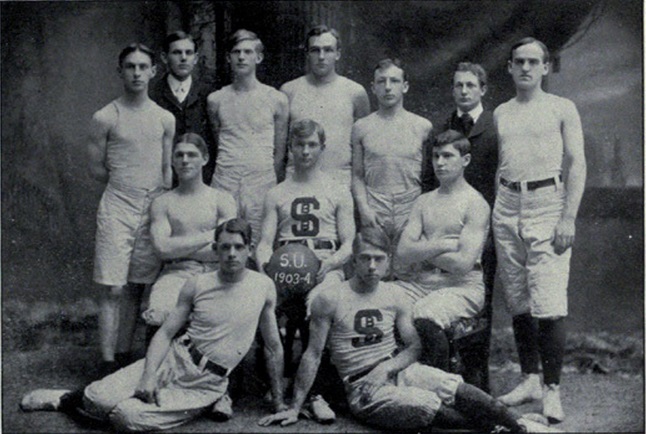 Houseknecht had two experienced teammates in Earl Twombley and Arthur Brady. They were joined by two fresh faces, Art Powell and George Kirchgasser, who had played together on the highly successful Buffalo Germans AAU team. The addition of these two players would make a big impact. Kirchgasser would lead the team in scoring, and Powell was the floor leader and the team's designated free throw shooter.
On December 18th, the Orangemen played the powerful Yale team. Behind a Kirchgasser's 12 point effort and a strong team defensive effort, Syracuse beat Yale 15-5, in what may be considered the first prominent win in Syracuse basketball history. The team started out 7-1, including a dominating defeat of St. John's Military Academy, where the Syracuse second team started the game. Kirchgasser would score 20 points in that game.
The aggressive February schedule would take its toll on the team. Brady would leave the team February 3rd to focus on academics. The Orangemen would go 6-6 in the month, and would finish out the season with a loss to Colgate. A game in March against Cornell was cancelled due to a feeling at Cornell that they had played too many games already.
[Note: missing individual statistics from eight games, so all players may have additional scoring, noted by the +]
© RLYoung 2005, 2006, 2010, 2018, 2019