| | |
| --- | --- |
| Born: 1/23/1883 | Canton, NY |
Season Stats

| Season | Cl | Pos | G | GS | FG | FGA | % | FT | FTA | % | Fls | DQ | Pts | PPG |
| --- | --- | --- | --- | --- | --- | --- | --- | --- | --- | --- | --- | --- | --- | --- |
| 1900-01 | So | F | 4 | 4 | +4 | | | | | | | | +8 | 0.0 |
| 1901-02 | Jr | F | 5 | 5 | | | | | | | | | +12 | 0.0 |
| 1902-03 | Sr | F | +3 | +2 | | | | | | | | | +4 | 0.0 |
| 1903-04 | Gr | F | +11 | +10 | | | | | | | | | +38 | 0.0 |
| Career | | | +23 | +21 | +23 | 0 | 0.0 | 0 | 0 | 0.0 | 0 | 0 | +62 | 0.0 |
Earl Twombley was a speedy forward for Syracuse for four seasons. He was one of the fastest players on the court, and was the top sprinter on the Syracuse track team. He was also a left end on the Syracuse football team.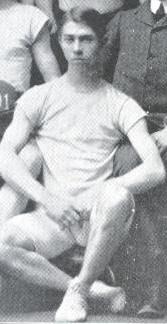 Twombley played for the Syracuse basketball club his freshman year, 1899-1900, before the sport was recognized as an official university team. As a sophomore, he started all four games of the first official Syracuse basketball season.
Twombley would start five of the six games his junior season. As a senior, he was named captain of the team, and would continue to start most of the games. He would play a fourth year on the varsity as a post graduate student, primarily as a reserve.
Twombley would be an executive with the Hewitt Rubber Company in Buffalo, New York.[1]
His name was often spelled as Twombly in the Syracuse newspapers.
[Note 1900-1902 missing 2 scoring from 2 games, 1901-02 statistics missing scoring from four games, 1903-04 missing eight games, and 1902-03 for 9 games, noted by the +]
© RLYoung 2006, 2008, 2010, 2014, 2015, 2016, 2018, 2019
[1] The Class of 1904 Syracuse University: A History: by Arthur L. Evans