| | |
| --- | --- |
| Born: 11/3/1881 | Cooperstown, NY |
Season Stats

| Season | Cl | Pos | G | GS | FG | FGA | % | FT | FTA | % | Fls | DQ | Pts | PPG |
| --- | --- | --- | --- | --- | --- | --- | --- | --- | --- | --- | --- | --- | --- | --- |
| 1901-02 | Fr | G | 6 | 6 | - | - | | - | - | | - | - | +15 | 0.0 |
| 1902-03 | So | G | +3 | +3 | +1 | - | | +5 | - | | - | - | +7 | 0.0 |
| 1903-04 | Jr | G | +5 | +4 | +2 | - | | - | - | | - | - | +4 | 0.0 |
| 1904-05 | Sr | G | +1 | 0 | - | - | | - | - | | - | - | +0 | 0.0 |
| Career | | | +15 | +13 | +3 | 0 | 0.0 | +5 | 0 | 0.0 | 0 | 0 | +26 | 0.0 |
Arthur Brady was a guard on the Syracuse basketball team for four seasons.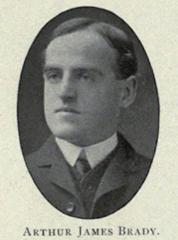 Brady started every game his freshman season, and was a starter the his first three seasons. He was an engineering student, and would leave the team mid season (February) of his junior year in order to focus on his academics. He would return to the team his senior season as a reserve.
Brady was also a solid member of the crew team.
He is referred to in the Syracuse media guide as E.J. Brady.
[Note 1901-02 statistics missing scoring from four games, and 1903-04 missing eleven games, noted by the +]
© RLYoung 2006, 2016