| | |
| --- | --- |
| Born: 5/26/1878 | Calcutta, India |
Season Stats

| Season | Cl | Pos | G | GS | FG | FGA | % | FT | FTA | % | Fls | DQ | Pts | PPG |
| --- | --- | --- | --- | --- | --- | --- | --- | --- | --- | --- | --- | --- | --- | --- |
| 1900-01 | Gr | G | 4 | 4 | | | | | | | | | | 0.0 |
| 1901-02 | Gr | G | +5 | 5 | | | | | | | | | +3 | 0.0 |
| 1902-03 | Gr | G | +2 | +1 | | | | | | | | | +0 | 0.0 |
| 1903-04 | Gr | G | - | | | | | | | | | | | 0.0 |
| Career | | | +11 | +10 | 0 | 0 | 0.0 | 0 | 0 | 0.0 | 0 | 0 | +3 | 0.0 |
Clinton Goodwin was a guard on the Syracuse basketball team for four seasons. He was a starter for the first three seasons Syracuse had a varsity basketball team, and a reserve player the fourth. He was an outstanding all-around athlete, excelling in basketball, track, crew, football and baseball, and lettering in four sports.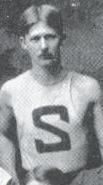 He was born in Calcutta, India, where his parents were missionaries. Goodwin enrolled into Syracuse University in 1896, and graduated in 1900. He was a medical student from 1901-1904 during which time he continued to participate in athletics at the university.
Goodwin started every game of the first season. He was captain of the 1902 Syracuse Orangemen. As the team had no official coach, one of the primary responsibilities of the captain was to lead the team.
Goodwin was the outstanding rower on the crew team, the top in the school. He excelled in the single skulls, and would captain the team. Goodwin was nicknamed the '60 Minute Man' for his prowess on the football field.
He studied medicine at Syracuse, and would be a general practitioner in Weedsport, NY for 52 years. He was a member of the Weedsport School Board for 26 years.
Dr. Clinton Goodwin passed away in 1957.
[Note 1901-1902 statistics missing scoring from four games, noted by the +]
© RLYoung 2006, 2016