| | |
| --- | --- |
| HS: Masten Park | Buffalo, NY |
| | |
| --- | --- |
| Born: 1/25/1885 | Buffalo, NY |
Season Stats

| Season | Cl | Pos | G | GS | FG | FGA | % | FT | FTA | % | Fls | DQ | Pts | PPG |
| --- | --- | --- | --- | --- | --- | --- | --- | --- | --- | --- | --- | --- | --- | --- |
| | Fr | F | +11 | +10 | +48 | | | +5 | | | | | +101 | ~9.2 |
| | So | F | +16 | +13 | +39 | | | +3 | | | | | +98 | 0.0 |
| | Jr | F | +8 | +8 | +21 | | | +10 | | | | | +52 | 0.0 |
| | Sr | F | 1 | 1 | 0 | | | 0 | | | | | 0 | 0.0 |
| Career | | | +36 | +32 | +111 | 0 | | +18 | 0 | | 0 | 0 | +251 | 0.0 |
George Kirchgasser was a solid shooting forward in the early years of the Syracuse basketball program. He was a three year starter for Syracuse, and captain of the team his junior season.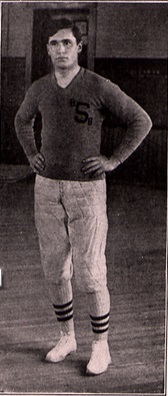 Kirchgasser played AAU basketball with Art Powell, George Redlein and Max Riehl, with the famed Buffalo Germans team.
As a freshman, Kirchgasser scored 20 points against the St. Johns Military Academy. Kirchgasser was the star of the game in what was considered the first big win in Syracuse basketball history, when the Orangemen beat Yale 15-5 on December 18, 1903. Kirchgasser shot extremely well that night, and scored 12 of the team's 15 points. He would lead the team in scoring his freshman year.
In the opening game of his sophomore season, he scored 30 points in a lopsided win over Jenners Prep. All of his thirty points were scored from the floor and in the first half of the game, as he took no free throws. He was the captain of the team his junior season.
As a senior, Kirchgasser would play in only the first game of the season, and would not score.
Kirchgasser would coach basketball in Wisconsin in the 1910s-1920s. He would have a career as an electrical engineer, and would have several published articles in engineering magazines. [1]
[Note 1903-04 statistics missing scoring from eight games , 1904-05 statistics missing from 19 games, and 4 games in 1905-1906, noted by the +]
©RLYoung 2006, 2009, 2010, 2016, 2018, 2019
[1] Alumni Record and General Catalogue of Syracuse University