| | |
| --- | --- |
| 1904-1905 Syracuse Orangemen | |
Coach: John A.R. Scott
Art Powell, George Redlein, George Kirchgasser and Frank 'Max' Riehl played basketball together in Buffalo, first in high school, and then for the AAU Buffalo Germans. They were now all in the same lineup at Syracuse, and the Orangemen put together a rugged schedule to give their talented squad a good season to showcase. The Buffalo foursome and John Stark started the year as the starters.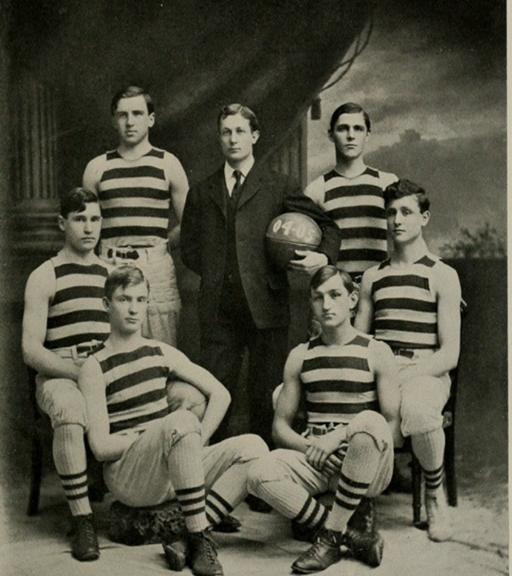 Shortly after the Christmas break, Stark got married and left the team. Eddie Dollard joined the team and took Stark's position.
Syracuse would start the season with a lopsided win over Jenners Prep. George Kirchgasser would score 30 points in the rout. They would have another easy win, this time against Dartmouth, in their next game. Syracuse would go on the road and lose a closely fought game with Schenectady County 13-12.
The Orangemen would then put together a nice six game winning streak, with five wins by large margins. They played a close game with a talented Yale team on January 7th, and the Orangemen prevailed 20-16 with Powell and Redlein having strong games.
Redlein would injury his ankle in the win over Cornell at the end of the winning streak. The Orangemen would lose their next three games againt Hamilton, Colgate, and Princeton. They would have a revenge game against Colgate a few days later, and win in a high scoring affair 36-31.
Syracuse would make a four game road trip to New England and face highly rated Williams College. The game was quite a physical battle and would go into overtime. Williams College would eventually previal 14-12. They then easily beat Amherst and Trinity before losing a close game to Brown.
Syracuse would beat Hamilton in a rematch 60-9, very easily, and this time with the help of Redlein who scored 26 points. They then played a two game series against Allegheny College, splitting the pair, before finishing the season with a win at Hiram College.
Syracuse finished their tough season with an admirable 14-7 record, despite having twelve road games, and several highly rated opponents.
[Scoring missing from 11 games, and games participation from 8 games, indicated by the +]
© RLYoung 2005, 2006, 2008, 2009, 2015, 2016, 2018