| | |
| --- | --- |
| HS: New York Military Academy | Cornwall-on-the-Hudson, NY |
| | |
| --- | --- |
| Born: 9/30/1908 | New York, NY |
Season Stats

| Season | Cl | Pos | G | GS | FG | FGA | % | FT | FTA | % | Fls | DQ | Pts | PPG |
| --- | --- | --- | --- | --- | --- | --- | --- | --- | --- | --- | --- | --- | --- | --- |
| 1928-29 | So | F | | | | | | | | | | | | 11.3 |
| 1929-30 | Jr | F | 18 | 18 | | | | | | | | | | 11.2 |
| 1930-31 | Sr | F | 18 | 16 | | | | | | | | | | 11.0 |
| Career | | | 51 | 49 | +64 | 0 | 0.0 | +41 | 0 | 0.0 | 0 | 0 | 568 | 11.1 |
One of the greatest players for Syracuse in the first half of the century, Lou Hayman was a three year starter, and an All-American his senior year (1931). Known as an excellent defender, Hayman also demonstrated scoring prowess with an excellent perimeter shot. In a game against Cornell in March 1930, Hayman scored 22 points, nearly outscoring the entire opposition in a game SU won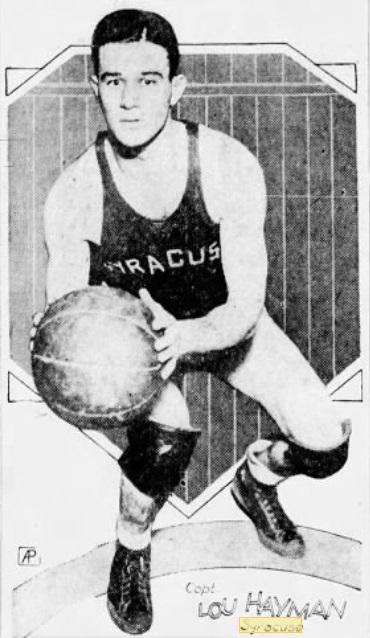 58-24. He was part of the Syracuse famed 'Reindeer Five'.
Hayman also lettered in baseball three seasons (1929, 1930, 1931).
Hayman made even more success as a football coach and executive (ironically, a sport he did not letter at Syracuse). A member of the Canadian Football Hall of Fame, he arrived in Toronto the year after graduating from Syracuse to coach the University of Toronto basketball team. In 1933, at the age of 25, Louis became head coach of the Toronto Argonauts of the CFL (Canadian Football League) and led the Argos to the league championship (the Grey Cup).
Hayman led the Argonauts to two more Grey Cup titles (1937 and 1938), and then took over the Montreal Alouettes. He is credited with making football successful in the French-Canadian sports world.
During World War II he was a wing commander in the Royal Canadian Air Force (RCAF).
In 1949, he won a Grey Cup with the Alouettes and coached the team until 1951. He later returned to the Argonauts as general manager and president (he became CFL president in the 1969). Hayman was inducted into the Canadian Football Hall of Fame in 1975, the same year the Lew Hayman Trophy was inaugurated. The Hayman trophy is awarded annually to the Most Outstanding Player in the East Division in the CFL. Overall, Hayman won 5 Grey Cup titles.
Hayman passed away in 1984 in Toronto, Ontario.
©RLYoung 2005, 2006, 2008, 2015, 2019