| | |
| --- | --- |
| HS: Cooke Prep | Elmira, NY |
| HS: Elmira | Elmira, NY |
Season Stats

| Season | Cl | Pos | G | GS | FG | FGA | % | FT | FTA | % | Fls | DQ | Pts | PPG |
| --- | --- | --- | --- | --- | --- | --- | --- | --- | --- | --- | --- | --- | --- | --- |
| 1929-30 | So | C | 20 | 20 | - | - | | - | - | | - | - | | 0.0 |
| 1930-31 | Jr | C | 19 | 19 | - | - | | - | - | | - | - | 92 | 4.8 |
| 1931-32 | Sr | C | 22 | 22 | - | - | | - | - | | - | - | 113 | 5.1 |
| Career | | | 61 | 61 | 0 | 0 | 0.0 | 0 | 0 | 0.0 | 0 | 0 | +309 | 0.0 |
Slim Elliott was the center of the famed 'Reindeer Five' at Syracuse. Elliott was a considered a tall center in his era at 6'4", and did most of the jump balls for the team. He was a fine all around athlete playing baseball (he was a pitcher) along with basketball.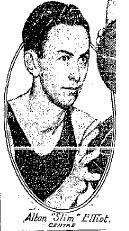 As a junior in high school in 1925-26, he helped lead Elmira High to the New York state championship.
Elliott would join the speedy foursome of Ev Katz, Dan Fogarty, Tuppy Hayman and Ken Beagle his sophomore year, to form the Reindeer Five. The four upperclassmen were fleet footed, and Elliott was the big man in the middle.
Elliott was the captain of the team his senior season, the lone returning starter as his four Reindeer Five comrades had all graduated the previous season. The team would struggle (in comparison) and finish at 14-8. Elliott would score a career high 17 points against Massachusetts Agricultural in February.
Elliott would coach at several schools following graduation. He coached the Croton-On-The-Hudson High School basketball team to a 39-1 record over two seasons. Eventually we would be the athletic director for Ogdensburg High School for eighteen years, as well as serve as the basketball and track coach.
In the mid 1940s, Elliott would serve two years in the Navy.
Elliott passed away in January of 1971.
[Missing individual statistics from Alfred game in 1929-1930 season noted by the +]
© RLYoung 2007, 2008, 2015