| | |
| --- | --- |
| 1921-1922 Syracuse Orangemen | |
Coach: Ed Dollard
Syracuse was coming off of a successful season, and returned several key players. Leading scorer Ken Lavin was back as team captain, along with Larry Weltman, the second leading scorer, and defensive stalwart George Fisher at guard. Some young talent from the football team in the form of Pete MacRae and Ribs Baysinger made it onto the basketball team to provide strength in the center.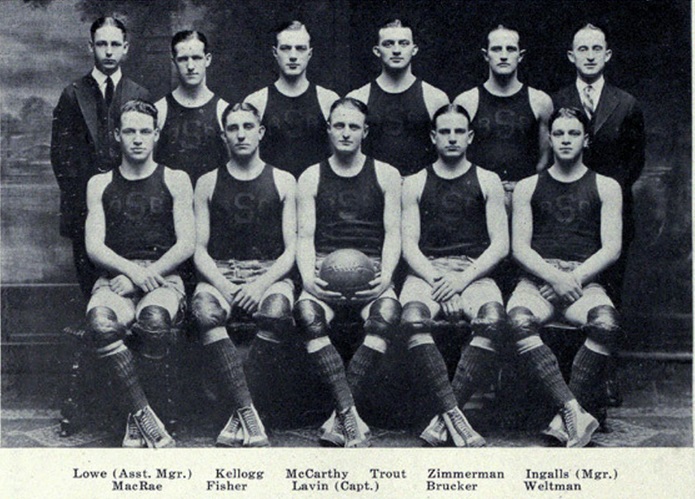 The team started out strong winning five of its first six games. MacRae was playing a solid center, and Lavin was once again leading the team in scoring. The team won a basketball tournament down in Pittsburgh, beating Pitt and Geneva to close out 1921.
Lavin was struggling at the free throw line (he was 8 of 18 against Geneva), so Fisher took over the free throw shooting responsibility. The Orangeman lost to rival Cornell in January, and MacRae would hurt his tendon, forcing him into the hospital for a few weeks. In his absence, Baysinger would fill in admirably. Joe Brucker emerged as a fine forward, with the ability to put up a few needed points each game. Bill Kellogg was a significant contributor off the bench.
The team would play solid defense all season, but would continue to have mediocre free throw shooting, which cost them a few close games. They would finish the season tying the school record with 16 wins (though they needed 24 games to do so). Fisher would lead the team in scoring, with Lavin and Brucker coming in second and third respectively.
Of note, five members of this squad would play in the NFL (Weltman, MacRae, Baysinger, Kellogg and Giff Zimmerman), and Charles McCarthy would be an All-American lacrosse player for Syracuse.
©RLYoung 2005, 2006, 2007, 2008, 2014