| | |
| --- | --- |
| HS: Allegheny Prep | Bellevue, PA |
Season Stats

| Season | Cl | Pos | G | GS | FG | FGA | % | FT | FTA | % | Fls | DQ | Pts | PPG |
| --- | --- | --- | --- | --- | --- | --- | --- | --- | --- | --- | --- | --- | --- | --- |
| 1920-21 | So | G | 19 | 16 | 13 | | | 0 | | | | | 26 | 1.4 |
| 1921-22 | Jr | G | 24 | 24 | | | | | | | | | 150 | 6.3 |
| 1922-23 | Sr | G | 20 | 20 | 14 | - | | 11 | - | | - | - | 39 | 2.0 |
| Career | | | 63 | 60 | +27 | 0 | 0.0 | +11 | 0 | 0.0 | 0 | 0 | 215 | 3.4 |
George Fisher was an outstanding athlete who played guard for three seasons for Syracuse basketball. Fisher was a two sport star, playing in basketball and lacrosse. Fisher would be named honorable mention All-American in lacrosse his junior year, and first team All-American in lacrosse his senior year. He played the cover point position.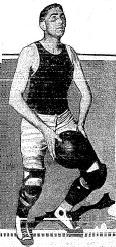 Fisher was a tremendous defensive player, and touted as the best defender on the court all three years he played. He had injured his leg in high school, and played his entire Syracuse career with a sore leg and always wore a leg brace. Fisher would start his first game five games into his sophomore season, and remain a starter for the remainder of his career.
He was the team's designated free throw shooter his junior season, and coupled with an injury to star Ken Lavin would allow Fisher to lead the team in scoring. He would have a career high 18 points in a one point victory over Trinity College that year.
Fisher would be named the team captain for his senior year. He would not be the only designated free throw shooter that year as coach Eddie Dollard tried several players unsuccessfully at that position. As a result, Fisher's scoring would be down his senior year.
He would play professional basketball in Pittsburgh from 1924 to 1927.
© RLYoung 2008, 2014, 2016, 2017, 2018