| | |
| --- | --- |
| HS: Schenectady | Schenectady, NY |
Season Stats

| Season | Cl | Pos | G | GS | FG | FGA | % | FT | FTA | % | Fls | DQ | Pts | PPG |
| --- | --- | --- | --- | --- | --- | --- | --- | --- | --- | --- | --- | --- | --- | --- |
| 1930-31 | So | F | 14 | 1 | | | | | | | | | 24 | 1.7 |
| 1931-32 | Jr | F | 22 | 22 | | | | | | | | | 88 | 4.0 |
| 1932-33 | Sr | F/G | 15 | 3 | | | | | | | | | 67 | 4.5 |
| Career | | | 51 | 26 | 0 | 0 | 0.0 | 0 | 0 | 0.0 | 0 | 0 | 179 | 3.5 |
Whitey Bock was on the Syracuse basketball team for three seasons. He was a diminutive forward known for his aggressive and flashy play, particularly in the passing game. He was also an excellent baseball player, lettering three times in that sport too. He would serve as the team captain for both the basketball and baseball teams his senior year.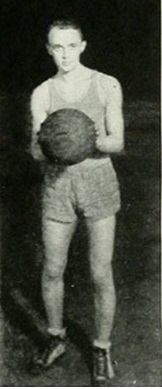 Bock played well enough his sophomore season that he became one of the top reserves on a senior-laden team. He would start every game his junior year, leading the Orangemen in scoring in wins over Lehigh, Fordham and having a career high 13 points in a win over Penn State.
Bock was named the team captain his senior year. He would lead the Orangemen in scoring in a win in the first game of the season. However a strong sophomore class had joined the team with the likes of Lou Alkoff, Lloyd Sanford, Johnny DeYoung, and Don Pickard. As a result, Bock would lose his starting position by the third game of the year. Bock would still be a vital part of the team, and would still be a strong part of the offense.
Bock would work as an accountant at General Electric in Syracuse following graduation. He would enter the military in 1942 and serve in World War II.
© RLYoung 2015