| | |
| --- | --- |
| HS: Glens Falls | Glens Falls, NY |
| | |
| --- | --- |
| Born: 11/2000 | Glens Falls, NY |
Season Stats

| Season | Cl | Pos | G | GS | Min | FG | FGA | % | FT | FTA | % | 3Pt | 3PA | % | Asst | Reb | DReb | OReb | Fls | DQ | TO | ST | BS | Pts | PPG | APG | RPG |
| --- | --- | --- | --- | --- | --- | --- | --- | --- | --- | --- | --- | --- | --- | --- | --- | --- | --- | --- | --- | --- | --- | --- | --- | --- | --- | --- | --- |
| 2019-20 | Fr | G | 32 | 30 | 1056 | 122 | 351 | | 84 | 94 | | 70 | 216 | | 113 | 97 | 92 | 5 | 47 | 0 | 60 | 47 | 3 | 398 | 12.4 | 3.5 | 3.0 |
| 2020-21 | So | G | 28 | 28 | 776 | 92 | 259 | | 39 | 50 | | 50 | 150 | | 99 | 81 | 75 | 6 | 34 | 0 | 59 | 39 | 2 | 273 | 9.8 | 3.5 | 2.9 |
| Career | | | 60 | 58 | 1832 | 214 | 610 | 35.1% | 123 | 144 | 85.4% | 120 | 366 | 32.8% | 212 | 178 | 167 | 11 | 81 | 0 | 119 | 86 | 5 | 671 | 11.2 | 3.5 | 3.0 |
Joe Girard is a guard for Syracuse basketball.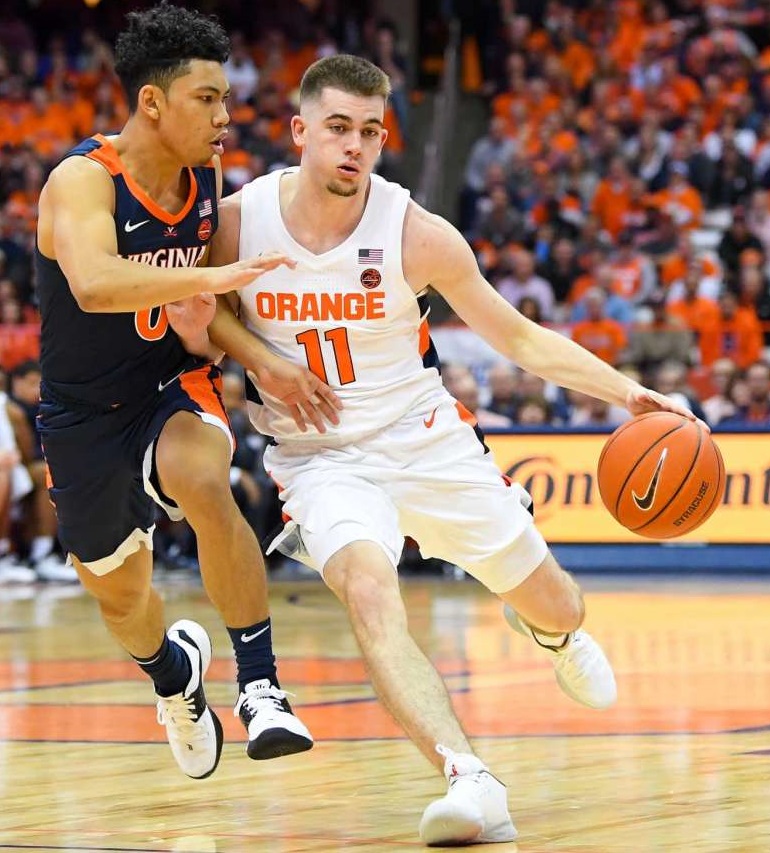 Girard was one of the most accomplished high school athletes in New York history. He set the New York State high school career scoring record with 4,763 points. He played varsity basketball starting in eighth grade, and his point total includes all five years. He scored 4,329 points from ninth grade through his senior season. [1] It is believed he had the ninth most career points for a high school student, across the country. Girard led his high school to a Class B state basketball championship his senior year, and Class B state championships in basketball his sophomore and senior years.
Girard started the season as the top reserve for the Orange. Sophomore Jalen Carey would struggle at the point guard position, and after two games coach Jim Boeheim moved Girard to the starting point guard position; he would remain their the rest of the year. Girard would promptly respond with a 24 point night against Seattle, making seven of eight shots for 24 points, along with five assists. Girard would have an inconsistent season, but showed that he could score. He would have a season high 30 points against North Carolina State in a February loss. Girard would lead the team in assists, and was third in scoring.
Girad would struggle with consistency his sophomore season, having a few big scoring games mixed with low scoring games. He did contract Covid-19, which added to conditioning problems for him. Though Girard started every game, he split the point guard responsibilites with freshman Kadary Richmond.
© RLYoung 2019, 2020, 2021
[1] Syracuse Post Standard, Chris Carlson, April 4, 2019