| | |
| --- | --- |
| HS: Immaculate Conception | Montclair, NJ |
| | |
| --- | --- |
| Born: 10/1999 | New York, NY |
Season Stats

| Season | Cl | Pos | G | GS | Min | FG | FGA | % | FT | FTA | % | 3Pt | 3PA | % | Asst | Reb | DReb | OReb | Fls | DQ | TO | ST | BS | Pts | PPG | APG | RPG |
| --- | --- | --- | --- | --- | --- | --- | --- | --- | --- | --- | --- | --- | --- | --- | --- | --- | --- | --- | --- | --- | --- | --- | --- | --- | --- | --- | --- |
| 2018-19 | Fr | G | 25 | 2 | 305 | 29 | 74 | | 25 | 40 | | 4 | 23 | | 25 | 39 | 33 | 6 | 12 | 0 | 41 | 16 | 4 | 87 | 3.5 | 1.0 | 1.6 |
| 2019-20 | So | G | 2 | 2 | 23 | 1 | 8 | | 1 | 4 | | 0 | 0 | | 1 | 6 | 4 | 2 | 1 | 0 | 3 | 1 | 0 | 3 | 1.5 | 0.5 | 3.0 |
| Career | | | 27 | 4 | 328 | 30 | 82 | 36.6% | 26 | 44 | 59.1% | 4 | 23 | 17.4% | 26 | 45 | 37 | 8 | 13 | 0 | 44 | 17 | 4 | 90 | 3.3 | 1.0 | 1.7 |
Jalen Carey was a point guard for the Syracuse Orange basketball team for two seasons. He possessed a lot of quickness but struggled to play with control. An injury would sideline most his sophomore season.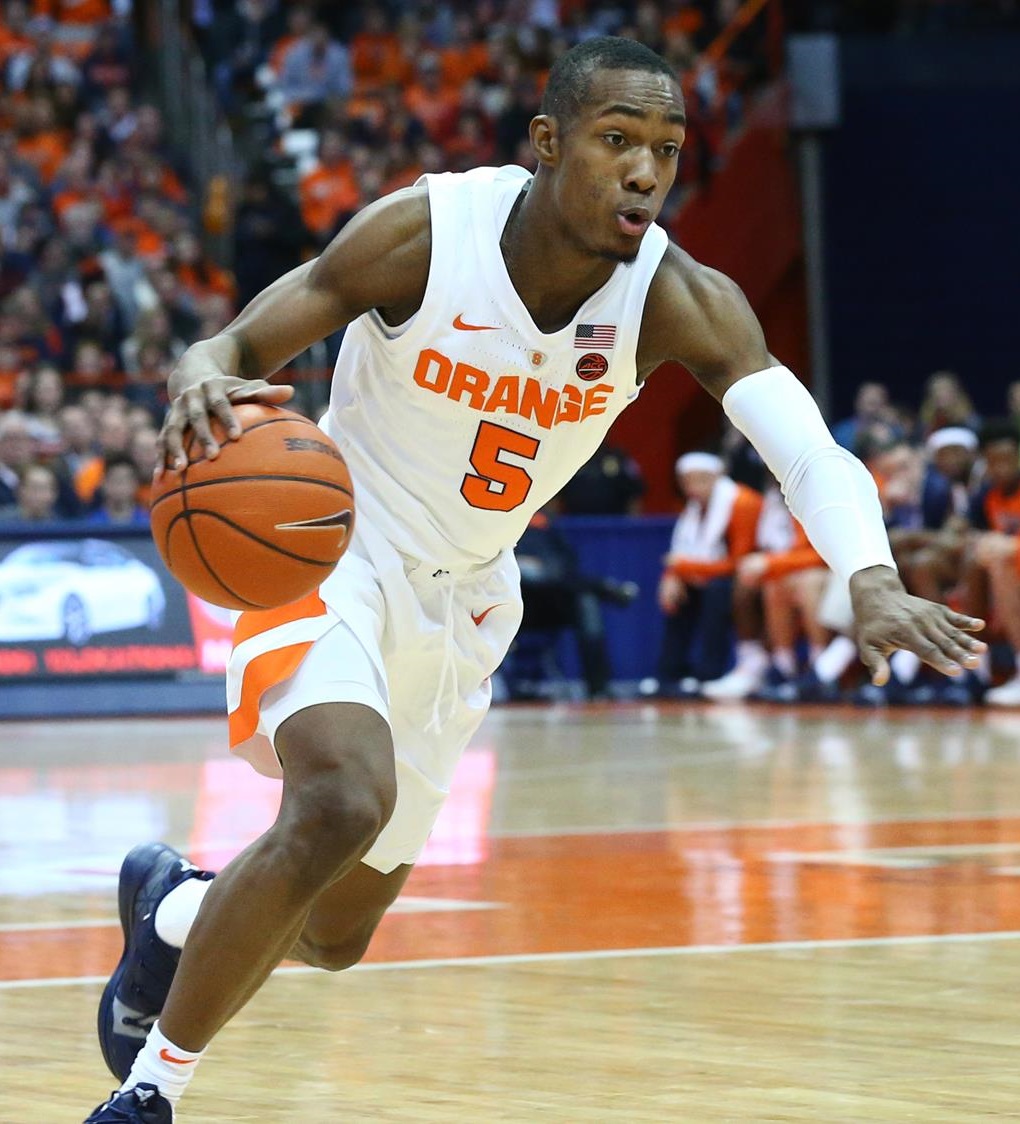 Carey would get the opportunity to start a couple of games early his freshman year due to injuries to senior point guard Frank Howard. Carey would score a season high 26 points in a loss to Connecticut in the 2K Empire Classic, and then 14 points in a loss to Oregon the following night. He displayed a lot of quickness on the court, and was aggressive going to the hoop. However, he also struggled with turnovers, and his perimeter shooting was weak. As Frank Howard got healthier, and the season started to progress into ACC conference play, Carey would see less playing time. There would be several games in which he was a healthy scratch.
Carey would start his sophomore season as the starting point guard. The Orange struggled to have any offensive rhythm against defending national champion Virginia in the season opener as the team scored only 34 points. Coach Jim Boeheim was unhappy with Carey's effort starting the Colgate game, and he would remove him after five minutes for freshman Joe Girard. Carey would not play the second half, and did not play in the next game against Seattle.
Carey would announce before the Cornell game that he was having thumb surgery, and he would be out 8-10 weeks for recovery. He opted to apply for a medical redshirt rather than return in February. Carey would be ejected from the Georgetown in December, despite not playing in the game; while sitting on the bench, Carey tripped the Hoyas' Terrell Allen.[1]
Carey would transfer to Rhode Island after his sophomore season.
Rhode Island Statistics

| Season | Cl | Pos | G | GS | Min | FG | FGA | % | FT | FTA | % | 3Pt | 3PA | % | Asst | Reb | DReb | OReb | Fls | DQ | TO | ST | BS | Pts | PPG | APG | RPG |
| --- | --- | --- | --- | --- | --- | --- | --- | --- | --- | --- | --- | --- | --- | --- | --- | --- | --- | --- | --- | --- | --- | --- | --- | --- | --- | --- | --- |
| 2020-21 | So | G | 23 | 3 | 368 | 41 | 96 | 42.7% | 16 | 28 | 57.1% | 0 | 7 | 0.0% | 13 | 62 | 51 | 11 | 27 | - | 43 | 9 | 7 | 98 | 4.3 | 0.6 | 2.7 |
| Career | | | 23 | 3 | 368 | 41 | 96 | 42.7% | 16 | 28 | 57.1% | 0 | 7 | 0.0% | 13 | 62 | 51 | 11 | 27 | 0 | 43 | 9 | 7 | 98 | 4.3 | 0.6 | 2.7 |
© RLYoung 2018, 2019, 2020, 2021
[1] Mike Waters @ Syracuse.com, 12/14/2019