| | |
| --- | --- |
| #35 Jackson 'Buddy' Boeheim | |
| | |
| --- | --- |
| HS: Brewster Academy | Wolfeboro, NH |
| HS: Jamesville-DeWitt | DeWitt, NY |
| | |
| --- | --- |
| Born: 11/11/1999 | Syracuse, NY |
Season Stats

| Season | Cl | Pos | G | GS | Min | FG | FGA | % | FT | FTA | % | 3Pt | 3PA | % | Asst | Reb | DReb | OReb | Fls | DQ | TO | ST | BS | Pts | PPG | APG | RPG |
| --- | --- | --- | --- | --- | --- | --- | --- | --- | --- | --- | --- | --- | --- | --- | --- | --- | --- | --- | --- | --- | --- | --- | --- | --- | --- | --- | --- |
| 2018-19 | Fr | G | 32 | 5 | 546 | 72 | 189 | | 26 | 33 | | 47 | 133 | | 33 | 52 | 34 | 18 | 38 | 0 | 25 | 18 | 3 | 217 | 6.8 | 1.0 | 1.6 |
| 2019-20 | So | G | 32 | 32 | 1140 | 177 | 434 | | 40 | 56 | | 97 | 262 | | 69 | 61 | 49 | 12 | 54 | 2 | 47 | 35 | 6 | 491 | 15.3 | 2.2 | 1.9 |
| 2020-21 | Jr | G | 25 | 25 | 895 | 161 | 372 | | 45 | 53 | | 77 | 201 | | 64 | 66 | 52 | 14 | 41 | 0 | 40 | 33 | 1 | 444 | 17.8 | 2.6 | 2.6 |
| 2021-22 | Sr | G | 32 | 32 | 1212 | 213 | 524 | | 99 | 112 | | 88 | 258 | | 97 | 108 | 90 | 18 | 55 | 1 | 56 | 47 | 3 | 613 | 19.2 | 3.0 | 3.4 |
| Career | | | 121 | 94 | 3793 | 623 | 1520 | 41.0% | 210 | 254 | 82.7% | 309 | 854 | 36.2% | 264 | 287 | 225 | 62 | 188 | 3 | 169 | 133 | 13 | 1765 | 14.6 | 2.2 | 2.4 |
Buddy Boeheim was a tall shooting guard for the Syracuse Orange basketball team. He was known for his terrific three point shooting, as well as his ability to take advantages of mismatches in the paint.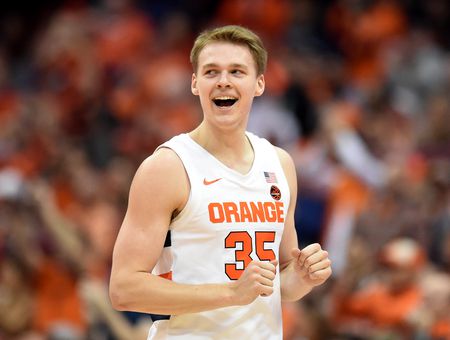 Boeheim would start the first two games of his freshman season due to injuries to senior guard Frank Howard. Boeheim would struggle to shoot in those two games, and would move to a reserve role. He would struggle to shoot early in the season. However, as the year proceeded, his game improved, and he would shoot well in ACC conference play, making 40.7% of his ACC three point attempts. Boeheim became a regular part of the seven man rotation. He would start both ACC tournament games when Tyus Battle hurt his back, and Boeheim would play well. He scored a season high 20 points against Pittsburgh in a win in the first round, and 15 against Duke in a second round loss.
Boeheim improved his shooting range and accuracy for his sophomore season. He was recognized as being one of the top three point shooters in the ACC leading the conference in three point field goal percentage and field goals made, and was the second leading scorer on the Orange team. He had a chance of breaking the Syracuse season three point shooting record, but lost the opportunity when the season was cut short due to Covid-19. He would have a season high 26 in a win over Georgia Tech and then later the same amount in two point win over Virginia Tech. Boeheim would lead Syracuse to a 63-55 overtime upset of #18 Virginia; he scored nine of his fourteen points in the overtime period, including a desperation shot as time expired on the shot clock.
Boeheim's junior season started slowly. Three times he had to go into Covid protocol forcing him to miss several weeks of practice as well as three games. He would also contract Covid disrupting his conditioning. Boeheim improved his offensive ability developing the ability to take advantage of size mismatches and back his defender down into the paint for easier baskets. Boeheim had a breakout game against Notre Dame, helping the Orange to overcome a twenty point second half deficit as he scored 20 of his 29 points in the second half. This game started a miraculous string of nine games where Boeheim averaged 24.2 points per game, helping propel the team to an unlikely strong season finish and getting the team into the NCAA tournament. Boeheim scored 58 points in the first two games of the ACC tournament, including 31 against Virginia, to give him all ACC tournament First team honors. Boeheim continued his hot shooting into the NCAA Tournament, with another 30 point game in an upset of San Diego State. Boeheim made 7 of 10 three point shots in that game, including several very difficult closely guarded shots. He followed that up with another outstanding performance against #3 seed West Virginia, where he scored 25 points. Boeheim would lead the team in scoring for the season, and had eleven games with 20+ points.
Boeheim was the dominant scorer on the Orange his senior season, and was one of the best offensive players in the ACC. He frequently drew double teams, and almost always had the best defenders assigned to guard him, regardless of their positions. Boeheim's shooting percent was down due to the increased defensive focus, but that opened up the court for his teammates to have cleaner looks. Boeheim improved his rebounding and assists, and both numbers we up noticeably from his junior year.
Fifteen times Boeheim would score twenty or more points in a game, and he rarely sat on the bench. He played all 50 minutes in the double overtime win against Indiana; twelve games he played 40+ minutes. Boeheim would score 30 points in a win over Wake Forest; he would score 30 again on senior day in a close loss to Miami. Boeheim would end up leading the ACC Conference in scoring.
Boeheim was involved in controversy in the Florida State game in the ACC tournament. He punched FSU's Wyatt Wilkes in the stomach following a rugged rebound attempt by Wilkes. The officials did not call a foul, and refused to review it. Wilkes and Miami coach Leonard Hamilton after the game dismissed the play as incidental. However, later that evening the ACC conference ruled that Boeheim was to be suspended for the Duke game. As a result Boeheim missed the last game of his career.
Boeheim would get recognition for ACC All First Team his senior year. He would go undrafted in the NBA draft, but would sign a two-way deal with the Detroit Pistons.
NBA Career Statistics

| Season | Team | Pos | G | Min | FG | FGA | % | FT | FTA | % | 3FG | 3FGA | % | Asst | Reb | Fls | DQ | TO | ST | BS | Pts | PPG | APG | RPG |
| --- | --- | --- | --- | --- | --- | --- | --- | --- | --- | --- | --- | --- | --- | --- | --- | --- | --- | --- | --- | --- | --- | --- | --- | --- |
| 2022-23 | Detroit | G | 10 | 90 | 5 | 27 | 18.5% | 2 | 2 | 100% | 4 | 25 | 16.0% | 6 | 4 | 6 | 0 | 0 | 2 | 0 | 16 | 1.6 | 0.4 | 0.6 |
| Total | | G | 10 | 90 | 5 | 27 | 18.5% | 2 | 2 | 100% | 4 | 25 | 16.0% | 6 | 4 | 6 | 0 | 0 | 2 | 0 | 16 | 1.6 | 0.4 | 0.6 |
Buddy is the son of legendary Syracuse coach Jim Boeheim, and the younger brother of Syracuse player Jimmy Boeheim.
© RLYoung 2018, 2019, 2020, 2021, 2022, 2023