| | |
| --- | --- |
| 1950-1951 Syracuse Orangemen | |
Coach: Marc Guley
The program had a new head basketball coach for the first time in twenty seven seasons. Former Orange captain Marc Guley took over for the legendary Lew Andreas, who was retiring from coaching to focus full time on his athletic director responsibilities. The team started the season out with a bang with a 101-39 victory over the University of Toronto. The team was 7-2 and feeling very confident about itself, including a 100-22 victory over Queens College.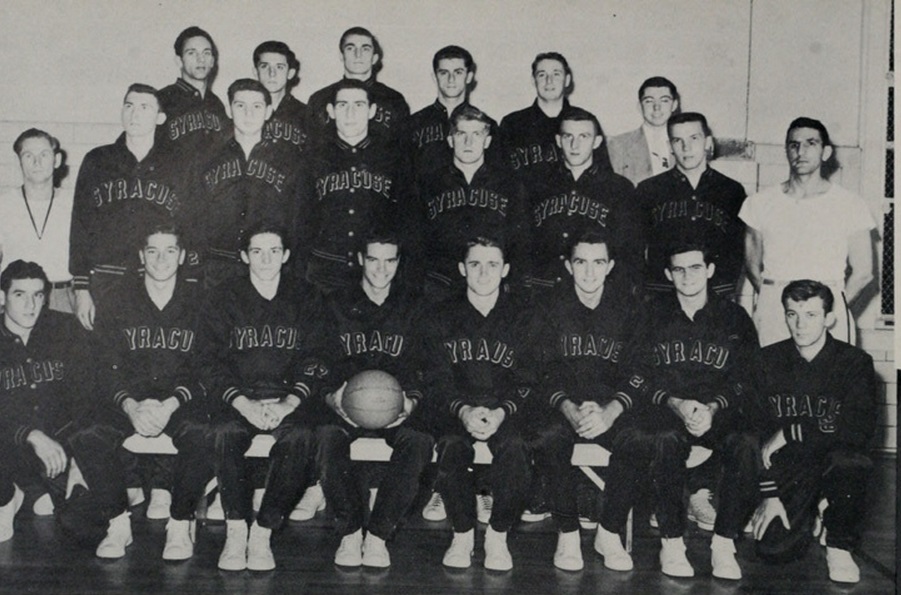 The team was led by captain Jack Kiley, who would score 400+ points again, and by Ed Miller at the center position. They would make a formidable one-two scoring punch. Dick Suprunowicz helped the team push the ball up the court, and was the primary defensive stopper. Tom Jockle ran the point position, and Tom Huggins provided strong rebounding and defense under the boards. The team possessed a good mix of experience and talent. The bench was deep though not very talented, with the exception of 6'5" sophomore Frank Reddout who had a ton of talent, but little experience.
At the end of December the team hit a rough stretch as the competition stiffened, and some injuries hit the team. Kiley would miss a game with an eye infection, and Jockle would miss six games after turning his ankle in the Queens University game. They would lose 6 of their 8 next games, including to Bradley, whom they would meet again later in the season, and Kentucky, the eventual National Champion. The team was learning to play close games though, losing four of those games by 4 or less points. They also started a trend of falling behind in games, and coming from behind to pull off the victory.
After the loss to Niagara, the team put together an impressive string, closing out their regular season with seven straight victories before a season ending loss to Colgate. That loss likely cost the Orangemen a bid to the NCAA and NIT tournaments. However, a new national tournament was started in 1951, the National Campus Tournament, to be played at Bradley, and the Orangemen were invited.
They broke their trend and had relatively easy times beating Toledo and Utah to advance to the tournament championship, where they were to meet Bradley. The Orangemen would face Bradley without one of their starters, as Huggins had his own wedding to attend (he had planned it months in advance with no knowledge of postseason activity).
Typical of their season, the Orangemen fell behind 18-0 to Bradley. The odds seemed insurmountable, yet the team rallied behind Kiley and Miller to eventually take the lead 66-65 on a long shot by Kiley. The Orangemen would get the lead up to 75-68, and then hold on to win the game, and the championship by one point, 76-75.
The Guley era was starting with a bang.
© RLYoung 2005, 2006, 2007, 2009, 2018