| | |
| --- | --- |
| 1913-1914 Syracuse Orangemen | |
Coach: Ed Dollard
With All American and team captain Lew Castle leading the way, Syracuse started the season off well, easily handling their first two opponents at home. The Orangemen had a well rounded team. C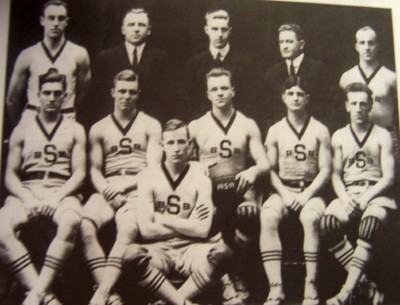 astle was the leading scorer, but the other four starters were contributing in the scoring as well. The Orangemen had a small but very fast team, and played the game up tempo.
Senior Dutch Notman was the second leading scorer and a seasoned player. Walter Rose, a star fullback on the football team was slated to be the other starting forward, but rheumatism affected his knees and he missed the season. As a result William Mahoney would start the season at forward, in stiff competition with Elmer Keib and Elias Raff. Keib would eventually win out the position based on his aggressive style and passing abilities. Freshman Wilbur Crisp displayed an excellent shooting touch. Junior Dick Seymour rounded out the starting five as a capable guard.
The first close game of the season would be against Pittsburgh. As time was expiring, Pitt was leading 28-27. Pitt would be called for a technical foul with sixteen seconds left in the game as Panther Coach Flint had substituted a player without a timeout being called (Pitt had none left to call). Castle would miss the free throw, but a Pitt player had stepped into the free throw lane for a violation, so Castle got another opportunity. This time he did not miss, and the game ended in a tie. In the overtime period, the Orangemen would dominate the play, outscoring the Panthers 8-1 to win the game.
Two games later the Orangemen would travel to Hamilton, NY to play the Colgate Maroons. The game was tied 26-26 at the end of regulation. The teams played an overtime period, and neither team scored, leaving the score at 26-26. In the second overtime period, the two teams traded baskets making it 28-28. Syracuse then was fouled and made a free throw to lead 29-28. As time was expiring, there was frantic action under the Syracuse basket, and a Maroon player put up a shot and made the basket. However, the Hamilton-based official ruled that time had expired before the shot was taken, and Syracuse won to remain undefeated.
The Orangemen would not have another serious challenge that season. On March 11, 1914, they would beat the Dartmouth Green 29-18 to finish the season 12-0, thus completing the first (and only) undefeated season in Syracuse basketball history. They did not win the National Championship, as there was no post season action, and Wisconsin's 15-0 squad was deemed to be a better team.

© RLYoung 2005, 2006
[Missing participation in one game indicated by the +]