| | |
| --- | --- |
| HS: Sea Cliff | Sea Cliff, NY |
Season Stats

| Season | Cl | Pos | G | GS | FG | FGA | % | FT | FTA | % | Fls | DQ | Pts | PPG |
| --- | --- | --- | --- | --- | --- | --- | --- | --- | --- | --- | --- | --- | --- | --- |
| 1913-14 | Fr | F | +1 | 0 | 1 | | | 0 | 0 | --- | | | 2 | 0.0 |
| Career | | | +1 | 0 | 1 | 0 | 0.0% | 0 | 0 | --- | | | 2 | 0.0 |
Elias Raff was a reserve forward on the Syracuse basketball team for one season, and the team manager his senior year (1916-17). Raff was also the coach of the freshman basketball team his junior year in college, the first time a Syracuse undergraduate student would be a coach of a school team.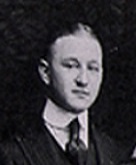 Raff was in a three way battle for the starting forward job his freshman year with Elmer Keib and William Mahoney. Keib would eventually win that position.
Raff was a member of the Syracuse student council and the Athletic Governing Board. He was also a member of the cheerleading squad. He would graduate from Syracuse with a law degree in 1917.
Raff would serve as a private in the 306th Infantry in World War I, serving in active duty in France. He would practice law following the war in New York City.
In 1919 he would run in a highly publicized New York State assembly election against Lt. Col. Theodore Roosevelt, son of the former president. Roosevelt was viewed as symbolic of the rich and powerful, while Raff, the son of a tailor, was viewed as the symbol of the poor working man. Roosevelt would win the election.
©RLYoung 2006
[Missing participation in one game indicated by the +]