| | |
| --- | --- |
| HS: Cortland Normal | Cortland, NY |
| | |
| --- | --- |
| Born: 1/22/1891 | Camden, NJ |
Season Stats

| Season | Cl | Pos | G | GS | FG | FGA | % | FT | FTA | % | Fls | DQ | Pts | PPG |
| --- | --- | --- | --- | --- | --- | --- | --- | --- | --- | --- | --- | --- | --- | --- |
| 1913-14 | Fr | G | 12 | +11 | 20 | | | 4 | | | | | 44 | 3.7 |
| 1914-15 | So | G | 11 | 11 | 19 | | | 44 | | | | | 82 | 7.5 |
| 1915-16 | Jr | G | 12 | 12 | 19 | | | 71 | +109 | | | | 109 | 9.1 |
| 1916-17 | Sr | G | 16 | 16 | 52 | | | 127 | | | | | 179 | 11.2 |
| Career | | | 51 | +50 | 110 | 0 | | 246 | 0 | | 0 | 0 | 414 | 8.1 |
Wilbur Crisp was an outstanding basketball player at Syracuse, and later would become an outstanding high school basketball coach and an inventor of sports aids. Crisp was an integral part of Syracuse's only undefeated season, playing guard as a freshman on the team that went 12-0 in 1914. Crisp was captain of the team his sophomore and junior seasons, and led the Orangemen in scoring his sophomore and senior seasons, when he was the team's designated free throw shooter, and recognized as one of the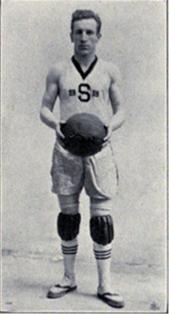 best around. He was known for his high arching shots, and his ability to shoot the ball from center court, pleasing the crowds.
Prior to coming to Syracuse, he was a star basketball player at Cortland State Teachers College (eligibility rules were much different in this era).
Crisp graduated with a degree in chemistry, and started teaching mathematics and science at Canastota High School in 1919. He founded a professional team called the All-Syracuse team at the same time, that would later feature several former Syracuse stars, including Joe Schwarzer, Billy Rafter, and John Barsha.
Later he moved on to become the head coach at Little Falls High School, where he coached from 1926 to 1958 (with a six year hiatus in the middle). During his coaching career he won a state championship (in 1930), and accumulated a record of 391-212. He was also the athletic director for 25+ years.
During World War II, Crisp was an Army officer.
He founded Mohawk Valley Sports, and invented several different sports aids including an adjustable basketball backboard, an electric basketball timer (in 1920) basketball goggles, basketball blinders, basketball and wrestling scorebooks, a basketball foul indicator, wrestling timer, wrestling anklets (the red and green that are universally used), and a stake holder for horse shoes.
Crisp was inducted into the Utica Sports Hall of Fame in 1992, and the National High School Sports Hall of Fame in 2001. Crisp passed away in 1969.
© RLYoung 2005, 2006, 2018