| | |
| --- | --- |
| HS: Little Falls | Little Falls, NY |
Season Stats

| Season | Cl | Pos | G | GS | FG | FGA | % | FT | FTA | % | Fls | DQ | Pts | PPG |
| --- | --- | --- | --- | --- | --- | --- | --- | --- | --- | --- | --- | --- | --- | --- |
| 1904-05 | Fr | G | 5 | +4 | 0 | 0 | | 0 | 0 | | 0 | 0 | 34 | 6.8 |
| 1905-06 | So | G | +0 | 0 | 0 | 0 | | 0 | 0 | | 0 | 0 | +0 | 0.0 |
| Career | | | +5 | +4 | 0 | 0 | | 0 | 0 | | 0 | 0 | +34 | 0.0 |
John Stark was an aggressive guard with an ability to go strong to the basket. He was a starter as a freshman, and was one of the leading scorers on the team in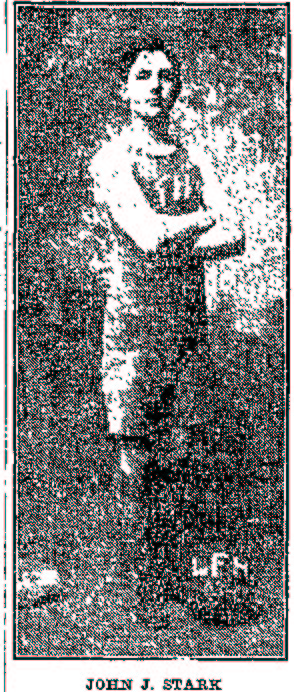 the first semester. Stark led the team with 22 points against Cornell, and again with 12 against Dartmouth. The team started off 4-1 with him in the lineup.
Stark's Little Falls high school team was recognized as the state champion when he played for them.
Stark left the team shortly after the Christmas, having gotten married over the break. He returned for his sophomore year, and once again left before the second semester, this time for good.
He played professional basketball for Gloversville, Little Falls, and Frankfort. Stark would earn his medical degree and become a doctor.
Stark passed away in 1958.
©RLYoung 2006, 2016, 2023