| | |
| --- | --- |
| 1962-1963 Syracuse Orangemen | |
Coach: Fred Lewis
| | | | | | | | | | | | | | | | | |
| --- | --- | --- | --- | --- | --- | --- | --- | --- | --- | --- | --- | --- | --- | --- | --- | --- |
| Player | Cl | Pos | G | GS | FG | FGA | FG% | FT | FTA | FT% | Reb | Fls | DQ | Pts | Ppg | Rpg |
| Carl Vernick | Jr | G | 21 | 21 | 79 | 223 | 35.4% | 75 | 110 | 68.2% | 105 | 49 | - | 233 | 11.1 | 5.0 |
| Jim Seaman | Jr | G | 18 | 10 | 67 | 148 | 45.3% | 26 | 47 | 55.3% | 41 | 37 | - | 160 | 8.9 | 2.3 |
| Phil Schoff | So | F | 21 | 19 | 80 | 211 | 37.9% | 59 | 87 | 67.8% | 95 | 32 | - | 219 | 10.4 | 4.5 |
| Herb Foster | Sr | F | 21 | 21 | 91 | 207 | 44.0% | 41 | 58 | 70.7% | 178 | 69 | - | 223 | 10.6 | 8.5 |
| Manny Klutschkowski | Sr | C | 21 | 18 | 57 | 135 | 42.2% | 39 | 60 | 65.0% | 123 | 74 | - | 153 | 7.3 | 5.9 |
| Rich Duffy | So | G | 21 | 5 | 45 | 126 | 35.7% | 38 | 57 | 66.7% | 41 | 40 | - | 128 | 6.1 | 2.0 |
| Dick Finley | Sr | G | 21 | 7 | 46 | 115 | 40.0% | 17 | 33 | 51.5% | 91 | 65 | - | 109 | 5.2 | 4.3 |
| Bob Murray | Jr | C | 19 | 3 | 29 | 68 | 42.7% | 16 | 22 | 72.7% | 49 | 16 | - | 56 | 2.9 | 2.6 |
| Dick Taylor | Sr | G | 10 | 0 | 2 | 7 | 28.6% | 5 | 10 | 50.0% | 13 | 5 | - | 9 | 0.9 | 1.3 |
| Eric Weber | So | C | 9 | 0 | 2 | 9 | 22.2% | 2 | 3 | 66.7% | 9 | 12 | - | 6 | 0.8 | 1.1 |
| Ken Wellman | Jr | F | 8 | 1 | 2 | 12 | 16.7% | 0 | 0 | --- | 3 | 7 | - | 4 | 0.5 | 0.0 |
| Larry Bailey | So | C | 2 | 0 | 1 | 3 | 33.3% | 0 | 2 | 0.0% | 2 | 1 | 0 | 2 | 1.0 | 1.0 |
| Bill Tydeman | Jr | F | 1 | 0 | 0 | 0 | --- | 0 | 0 | --- | 0 | 0 | 0 | 0 | 0.0 | 0.0 |
Syracuse University had a new basketball coach for the first time since 1950, and changes were to be in store for the program. Fred Lewis was the new coach and he brought a new discipline and a new style of play emphasizing speed. Along with the new coach, a new arena would open with Manley Field House opening at the start of the season. Syracuse was coming off a 2-22 season, the worst in school history, so there was a lot of work to be done.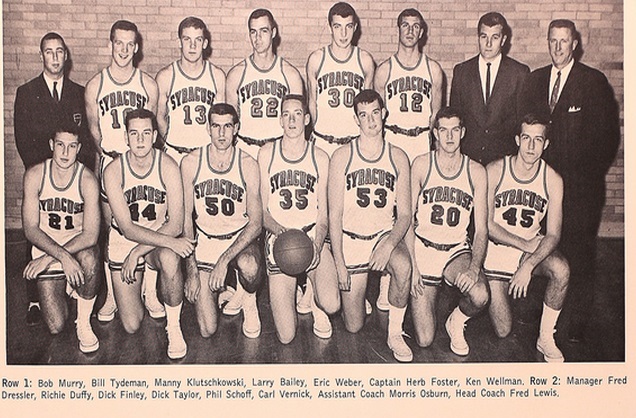 Syracuse did not have a big team with 6'5" Manny Klutschkowski at center and 6'4" Herb Foster the big forward, but the team did have a lot of quickness with Carl Vernick, Rich Duffy and Dick Finley, and some good perimeter shooters in Phil Schoff and Jim Seaman.
The Orangemen would struggle against bigger more athletic opponents, as they were routinely out-rebounded. They would start the season off at 3-7, with several big losses, and a couple of close wins. Vernick suffered from pneumonia early in the season, and had a sore ankle, which would hamper him most the season.
Lewis would shuffle his lineup and in February the team would show some inspired wins as the Orangemen would easily beat Georgetown 76-70, and pull off a shocking upset of nationally ranked Niagara 68-67. New starter Jim Seaman would lead the way with 24 points, along with 20 points from Schoff.
The Orangemen would make a habit of rallying in the second halves of games; sometimes they could overcome the large deficits, other times they could not. The team would end the season losing five of seven games, finishing the year at 8-13. Attendance at the new arena was not significant for the varsity games; however, a talented freshman team with a spectacular Dave Bing was drawing a bit of attention, and there was some hope that he may help the program next year. That would be an understatement.
© RLYoung 2005, 2007, 2008, 2017